Knowing your correct skin tone allows you to choose the best hair color to complement your skin tone. The two main types of skin tone are warm skin tone and cool skin tone. In this article, I'll focus on warm skin tone and the best hair color for warm skin tone.
What is the best hair color for warm skin tone? The best hair colors for your warm skin tone are golden browns, honey blondes, strawberry blondes, dark chocolate, and caramel. These hair colors have hues of brown, black, yellow, and orange.
However, there are some shades of brown and blonde in the color spectrum that people with warm skin tones shouldn't use. Examples of these colors are red-brown, ashy blonde, and icy blonde. Thus, you have to consider the total result of your hair-skin tone combination to achieve the best effects.
Continue reading to learn more about these recommended hair colors, as well as how to determine which skin tone you have.
Best Hair Color for Warm Skin Tone
You must first learn how to classify your skin tone into warm or cool. But don't worry! Finding the best hair color for your warm skin tone can be relatively easy with the information provided in this post.
Knowing your skin tone is essential, as it would allow you to choose the correct foundation and matching hair color. Here's a link to help determine your skin tone. For a quick summary for determining your skin tone, see the below steps:
Observe your skin color. What color is more pronounced? If yellow and gold undertones are prominent, your skin tone is warm. If pink or blue is noticeable, you have a cool skin tone.
Next, check the colors of your veins. If they are more green, you have a warm skin tone. If they are more blue or purple, you have a cool skin tone.
You can also choose a friend or model that embodies your skin tone and fashion style. This model can be your fashion trendy next-door neighbor or a famous celebrity. You can then choose to follow their fashion style or merely get ideas from their style and fashion.
For more tips on how to determine your skin tone, see the articles here and here.
How to Pick the Best Hair Color for Your Warm Skin Tone
Step #1 – Test Various Colors Against Your Skin
You can do this by getting a similarly colored object and place it against your face. Observe if the features of your face are enhanced or not.
Another way is to apply a patch of color along your jawline and observe the results. This technique is for those who want to change the color of their hair.
Step #2 – Choose the Hair Color That Best Complements Your Skin
You can choose three final colors and then test them with your outfits. Observe the way the hair color blends with them. Is the hair color complementing your skin color?
You should learn how to mix and match the color of your clothing to exude the desired effect you want other people to see.
Step #3 – Test the Compatibility of the Hair Color with the Color of Your Eyes
If one of your facial assets is your eyes, you would surely want to enhance their beauty. Does your choice of hair color do this? If not, then you may want to try other hair colors. On the other hand, you can use such hair color if you're going to draw attention away from your eyes.
These are the general steps that you can follow to choose your correct hair color. Now, let's proceed to the variety of hues that each major color displays.
Different Hair Colors to Match Your Warm Skin Tone
If you have a warm skin tone – as determined by the steps we have provided – you're now ready to choose your hair color that could match your warm skin tone.
What would be the best hair colors for you? There are several hair colors suitable for warm skin tones. They include browns, blondes, and some caramel hues.
Nevertheless, it's not as simple as that since there are also many shades for each hair color. We want to help you pick the specific hair color that would complement your warm skin tone. Here are the details.
What Are the Blonde Hair Colors Suitable for Warm Skin Tones?
1. Honey Blonde
A honey blonde hair color is perfect for a warm skin tone that is fair to medium in color. The honey tint could bring out your natural warm undertone. It would look lovely when this hair color is when combined with light brown eyes.
Also, brown lipstick and light-colored clothing would bring out a healthy glow on your skin. Never doubt the power of honey blonde hair to impress people.
2. Russet Blonde
Russet blonde hair colors are suitable for people with warm skin tones, provided that they are not pale-skinned. The reason is that this hair color tends to age a pale-skinned person's appearance.
A russet blonde hair would be ideal for those with medium-toned warm skin. Pink or red lipstick may blend well with russet as well.
3. Amber Blonde
Amber blonde is a fabulous hair color for warm skin tone as long as the person is not fair-skinned. Darker skin colors with warm undertones tend to be more suitable for this hair color.
Wear something red in your outfit, and add pieces of gold accessories to complete your attire. You'd be the star of the night!
4. Copper Blonde
Copper blonde hair can go well with medium-colored skin with warm undertones. If coupled with eyes that are brown or have shades of brown, it could present an utterly stunning look. You can also put on bright red lipstick to add some color and vibrancy to your appearance.
5. Strawberry Blonde
This hair color could be a smashing combo with any eye color. It is also suitable for fair to neutral skin tones. Think of Jessica Chastain. With her fair, warm skin tone, she's a stunner with her strawberry blonde hair and light blue eyes.
To learn more about hair color for warm skin, see the article on HowChimp.com: Best Hair Color for Warm Skin Tone.
Celebrities with Warm Skin Tone and Blonde Hair
1. Blake Lively
2. Emma Stone
What Brown Hair Colors Look Good for Warm Skin Tones?
1. Golden Brown
Golden brown is a definite winner for people with medium golden skin color and warm skin tone. Look at Jennifer Lopez. She knows how to choose a hair color that could enhance her warm skin tone.
Her eyes may not be striking blue or green, but still, she got what it takes to bring the best sparkle of her eyes, using her hair color.
2. Honey Brown
Honey brown is another shade you can consider as a hair color for your warm skin tone. This shade of brown looks lovely to people with fair to medium skin and even dark skin.
Moreover, honey brown hair color goes well with hues of yellow, red, and orange. Brown or black eyes look amazing with this hair color. Attires with gray or off-white colors can go well with honey brown hair and fair skin, too.
3. Caramel Brown
Caramel brown is one of the best colors for warm skin tone, such as olive or golden brown skin. A perfect combo of clothing colors for this hair color also exists. When you wear a peach or light yellow top with a creamy white bottom, it will give you a spectacular view.
Caramel-brown can also blend well with fair skin and brown eyes. A light blue flowing outfit with golden earrings can be a scene-stealer.
4. Mahogany Brown
This color has the same effect as caramel and cinnamon. If your skin color is fair, it might reflect a different aura, which is a Barbie doll effect. You have to apply more blush on your cheeks and a darker lipstick to balance this hair color with your fair skin.
Don't hesitate to choose this hair color when you want to look professional and elegant.
5. Amber Brown
If you have pale skin and want to avoid focus on your skin color, an amber-brown hair color could be your solution. Extremely pale skin can appear unhealthy, especially without makeup on. Therefore, put makeup on to lend some color to your sallow skin.
As for clothing, you can pick crimson or dark blue pants or skirts paired with a sunny-yellow top or icy blue blouse.
Celebrities with Warm Skin Tone and Brown or Black Hair
1. Halle Berry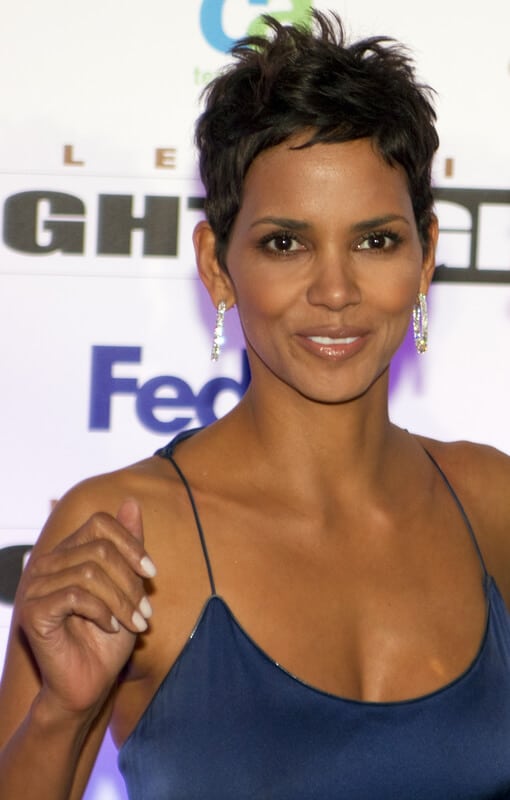 2. Jennifer Lopez
Does Black Hair Look Good with Warm Skin Tones?
Yes, the different shades of black would look good on people with warm skin tones. If you're fair-skinned, you can use shades of black, such as blue-black, licorice, and deep brown-black. If you're olive-skinned, you can use jet black hair color to enhance your beautiful skin.
Also, you'll need to consider how black hair color blends with your eyes too. A pair of golden brown eyes will complement an olive skin color and dark brown-black hair.
Black hair can go well with any colored garment, and the addition of accessories could perk up your appearance. Pure black ensembles can be intimidating and dark. A pink corsage or a gold ring and earring can add elegance and pizzazz.
Factors to Consider When Choosing Your Hair Color
There are essential factors you must consider when choosing your hair color. They include your skin tone, skin color, the color of your eyes, and your personal preferences. All of these factors can affect your overall look.
Make sure that you consider all of these factors before deciding the color of your hair. Choose a hair color that can make you feel beautiful and self-confident. As much as possible, make sure that your choice is in line with your preferences.
Tips on Picking the Best Hair Color for Warm Skin Tone
Consider your complexion. Some fair-skinned people have a warm skin tone, while other fair-skinned individuals have a cool skin tone. Thus, the color of your skin doesn't determine your skin tone. You wouldn't be able to know your skin tone unless you perform the skin tone test.
Think hues of orange, brown, black, blonde, or yellow. Your hair color should enhance your healthy skin color and not make you appear anemic.
Find a hair color that gives you self-confidence. No matter how phenomenal your hair looks, if you don't feel comfortable in it, it won't be the best hair color for you.
Ensure that the hair color you have chosen 'respects' your skin color. There should be a complete fusion of all the colors reflected from your body.
The hair color you have chosen has to go well with most colored outfits. Shades of brown and black are examples of these colors.
Don't zero in on any hair color, but be adventurous by trying out various shades. Try the other hues of the same color. The spectrum of colors is vast, and you'd surely find many hair colors that would enhance your skin tone.
Take note of your own color preferences. It's you who will be embodying the hair color. For this reason, it is essential for you to like your hair color.
When unsure about your hair color choice, go with jet black or dark brown. These colors can be matched with almost any color.
Always take into account the color of your eyes. Your beautiful eyes are the windows to your soul. So, you must always ensure that they well accentuated. Choose colors that can do wonders for your eyes.
Remember that your skin tone can change with time. Thus, you have to test your skin tone every now and then.
Being different from everyone else can be a blessing. If you know how to carry yourself well, dare to be original and unique.
Conclusion – Best Hair Color for Warm Skin Tone
So to revisit our initial question: What is the best hair color for warm skin tone? The best hair colors for your warm skin tone are hues of brown, yellow, caramel, honey blondes, and strawberry blondes, including shades of black, such as dark chocolate.
The best blonde hair colors for warm skin tones are:
Honey blonde
Russet blonde
Amber blonde
Copper blonde
Strawberry blonde
The best brown hair colors for warm skin tones are:
Golden brown
Honey brown
Caramel brown
Mahogany brown
Amber brown
Although most black shades look great on warm skin tones, jet black hair color mainly enhances olive skin tone.
Feel free to try other colors that you think could match the color of your eyes and skin tone. Just make sure to choose a color that brings out your best skin and eye color.
Related reading:
Blonde Hair Brown Eyes (Facts and Makeup Tips)
Rarest Hair and Eye Color Combination in the World
What Is the Rarest Hair Color in the World?
What Is the Rarest Eye Color in the World?