Disclosure: We may get commissions for purchases made through links in this post.
Two of the most common skin tones are called "fair" or "light" skin. Are these skin tones the same? What is the difference between fair vs light skin tones?
For most people, the terms "fair" and "light" tend to be interchangeable, but they are not necessarily the same thing. Sometimes, definitions change depending on whom you ask and where you are.
With regard to many Caucasians and Asians, a fair skin tone is associated with white skin in general.
However, when applied to non-Caucasians or mixed Caucasians, fair skin is just a number of shades lighter than a tan skin tone. It is about as close to white as one could get but just falling short of actually being white.
Light skin is sometimes subject to similar confusion, but it at least has a specific quality that distinguishes it from mere white skin. A light skin tone is a typically pale complexion but with undertones of beige or yellow. It is a trait that can occur to a degree in Caucasian skin but is much more pronounced among lighter-skinned Asian races.
In spite of being regarded as an attractive skin tone to most people, having light skin also has disadvantages. One of its drawbacks is that individuals with light or fair skin tend to be very sensitive, particularly to the sun.
A light skin tone holds up a little better and usually tans quite nicely, but fair skin is extremely delicate.
You might try to give yourself a good suntan, only to end up with a bad sunburn. A fair skin tone is often described as a porcelain complexion, and just like true porcelain, it can be easily stained.
Skin Care for Light or Fair Skin Tones
Whichever level of lightness your skin may fall under, it is under constant risk from the sun's rays every day, especially during the summer season.
Try to avoid staying outside during the hours between 10:00 a.m. and 4:00 p.m. because these times are particularly the sunniest times of the day. But if you really have to go out, then at least take an umbrella with you.
Another option is to wear a wide-brimmed hat and light long-sleeved clothes. Make sure to choose stylish ones so that you're both protected and fashionable at the same time.
Remember that it is a must for you to take care of your skin and keep it shielded from harsh elements, such as the unforgiving ultraviolet rays.
One of the ways to protect your skin is by practicing a regular skincare routine. It will help preserve your skin and maintain the healthy light or fair skin tone that you desire.
1. Exfoliation
For the first step, exfoliate your skin once or twice a week. You can gently scrub your skin using a dry exfoliating brush, salt or sugar body scrub, or even just a wet washcloth to eliminate dead skin cells.
Remember that when exfoliating your face, make sure to use exfoliating products made specifically for the face, as those designed for the body would be too harsh.
2. Moisturizer Application
The next step is to apply moisturizer on your skin every morning and evening after washing your face. Be sure to use a moisturizer that is specially formulated for your type of skin.
For instance, if your skin is oily, use a quick-absorbing lightweight moisturizer.
For dry skin, you would need to use a heavier moisturizer. If your skin is a combination of both, apply a lightweight moisturizer to most areas of your face and then a more concentrated one for the driest parts of your body. For the chest, arms, and legs, a lightweight body moisturizer will suffice.
3. Sunscreen Application
Lastly, always put on sunscreen whether you are outdoors or indoors. There is simply no escaping the sun's rays, no matter where you are. Make sure your sunblock has a minimum of SPF 30 or, better yet, SPF 50 to effectively protect your skin from UV light.
If you will be going outside, remember to reapply sunscreen every two hours. If you want to know which sunscreen brand is the most effective, allow us to recommend our three top choices.
Celebrities with Light or Fair Skin Tone
Below are some example images of celebrities with light or fair skin tone:
1. Gwen Stefani
First up is the Grammy Award-winning singer and fashion icon Gwen Stefani. Here is a photo showing her radiant light skin: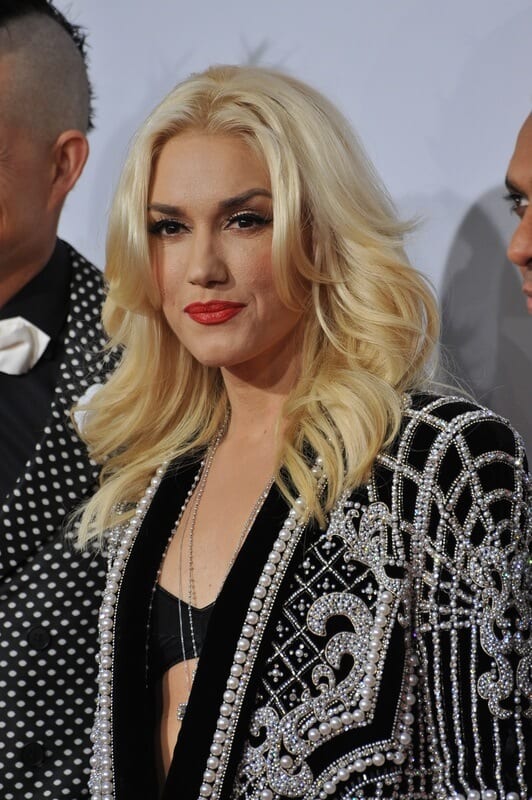 2. Cate Blanchett
Cate Blanchett is one of the most versatile actresses of our time that has fair skin. Here is a photo that shows her incredibly gorgeous light skin: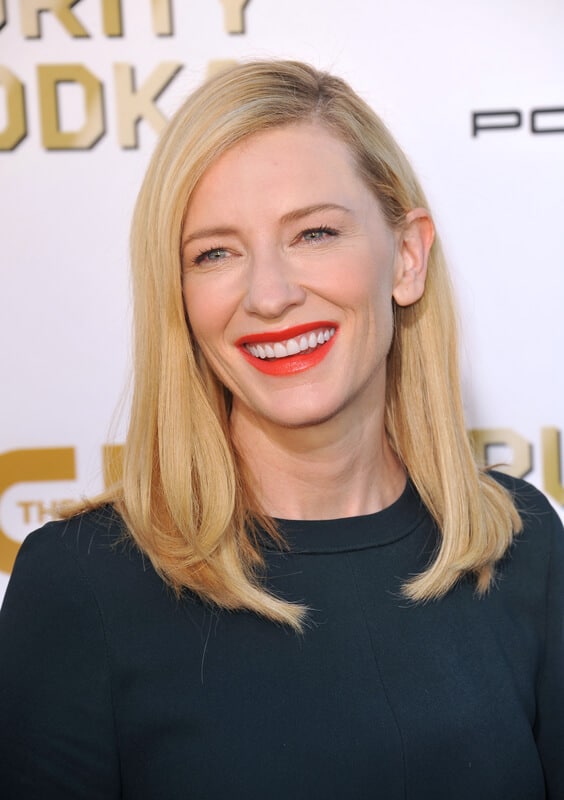 3. Lily Collins
Third on the list is one of Hollywood's darlings, the English-American actress Lily Collins. Below is a photo that showcases her stunning fair skin: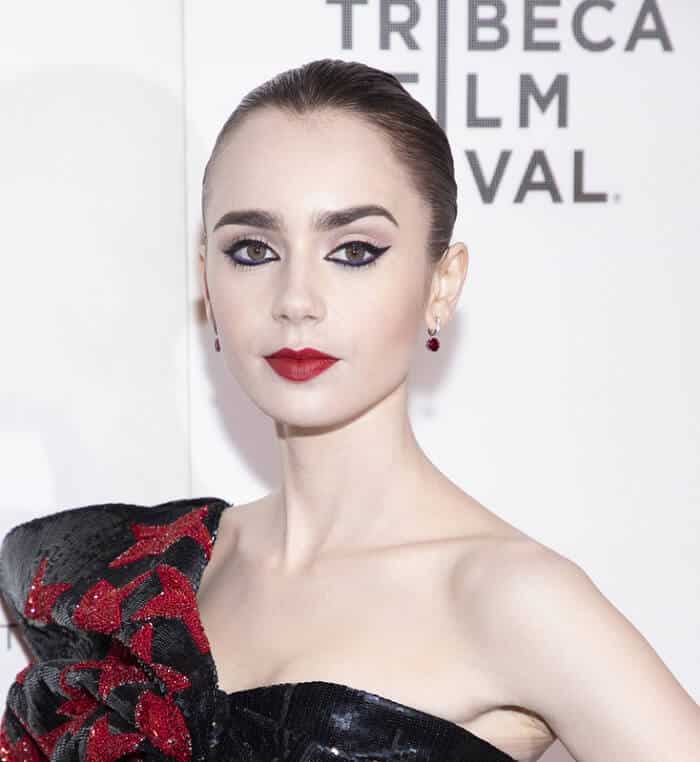 Sunscreen for Fair or Light Skin
For anyone with fair or light skin, you know how important it is to use good quality sunscreen. Below are three of the top sunscreens I've tried and recommend:
1. ISDIN Eryfotona Actinica Zinc Oxide and 100% Mineral Sunscreen SPF 50+
Click here to see it on Amazon.
The Eryfotona Actinica Ultralight Emulsion Broad Spectrum SPF 50+ from ISDIN is a 100% mineral-based sunscreen that protects the skin from harmful UVA (ultraviolet A, which penetrates deep into the thick layer or dermis of the skin) and UVB (ultraviolet B, which burns the superficial layers of the skin rays, preventing photoaging, fine lines, dark spots, and other sun-induced skin damage).
Its key ingredients are zinc oxide, which provides broad-spectrum UVA/UVB protection, vitamin E antioxidant to protect the skin from environmental damage, and DNA repairsomes that help repair skin damage caused by sun exposure.
To use the product, apply about two finger-lengths of Eryfotona Actinica to your face and neck 15 minutes before you go out into the sun. It is also ideal to use if you're going swimming or if you sweat a lot since the sunscreen will remain water-resistant for 40 minutes.
However, reapplication is required after towel drying and then at least every two hours thereafter. It is light on the skin, absorbs quickly, and leaves a non-greasy feeling. You can even apply makeup over it.
2. Colorescience Even Up Clinical Pigment Perfector Broad Spectrum 50 SPF UV Skin Protection
Click here to see it on Amazon.
The Even Up Clinical Pigment Perfector SPF 50 is a clinically tested, lightly tinted full-spectrum sunscreen from Colorescience. It is formulated with an iron oxide-infused mineral perfector to even up skin tone.
Its Lumira Skin Brightening Complex helps reduce the emergence of discoloration and blur out brown spots instantaneously. Moreover, its non-chemical mineral SPF 50 protects the skin from future damage due to UVA/UVB rays and environmental stressors.
Even Up is recommended for use after applying moisturizer and before putting on makeup, 15 minutes prior to sun exposure. Liberally apply sunscreen to your face, massaging with even coverage.
Reapply it after 40 minutes of swimming or sweating, and immediately following towel drying, at least after every two hours.
Upon initial application, Even Up instantly clears your skin, while 18 months of continued use ensures a dramatic decrease in pigmentation, increased skin lightening, and restoration of your skin's natural glow.
3. La Roche-Posay Anthelios AOX SPF 50 Daily Antioxidant Face Serum with Sunscreen
Click here to see it on Amazon.
Anthelios AOX Daily Antioxidant Face Serum with Sunscreen from La Roche-Posay is both sunblock and a daily anti-aging face treatment in one package.
This product is dermatologically tested and allergen-free. It also reduces signs of early aging and protects sensitive skin from damage caused by the sun.
It is fortified with an exclusive Cell-Ox Shield technology, providing broad-spectrum SPF 50 protection from UVA/UVB rays, plus a potent antioxidant complex combining vitamin E, vitamin CG, and baicalin to protect the skin from free radicals.
Anthelios AOX can be used on its own or before applying moisturizer. Generously apply it to your face and neck after cleansing and 15 minutes before exposure to the sun. You can then reapply at least every two hours.
Additionally, it has a lightweight texture that won't leave your face with a sticky feeling after sweating or swimming. With daily use, Anthelios AOX improves skin texture, diminishes the appearance of fine lines and dark spots, and lessens the risk of early skin aging and even skin cancer.
What is the difference between fair vs light skin tone? Fair skin tone is associated with white skin in general. Light skin tone is a similar pale skin tone but has undertones of yellow or beige.
If you are interested in lightening your skin, see the tips below.
Homemade DIY Skin Lighteners
If you want to save for the rainy days and don't want to dish out cash for commercially available skincare products, try using DIY skin lighteners. You can easily create your own homemade skin-lightening remedies using natural ingredients that you can find in your own kitchen.
1. Potato Slices
Just cut a few potato slices and sprinkle some water on them. You can rub the potato all over your skin for overall skin lightening. If you want to lighten a particular area, simply place it on the affected spot. After around 10 minutes, rinse your skin with warm water.
Potatoes contain starch and sugar that help to exfoliate your skin. Nutrients such as vitamin C, zinc, potassium, and others will help rejuvenate your skin and give it a lighter shade. If you don't have potatoes, you may also use other vitamin C-rich fruits and vegetables, such as tomatoes, papayas, or cucumbers.
2. Turmeric Paste
The Indian spice turmeric has been used as a potent skin-lightening solution for thousands of years. It contains curcumin, which serves as an antioxidant and anti-inflammatory agent that can help brighten your skin.
To make this quick and easy home remedy, simply mix turmeric powder with a sufficient amount of olive oil into a thick paste. Spread this paste thinly over your skin and leave it for about 15 to 20 minutes. Clean up by rinsing it off with warm water.
You may apply this treatment once a day for as often as you wish. However, the paste can leave stains on your clothes, so be sure to wear old or dark clothing during application. It can also temporarily leave yellow stains on your skin, but these stains can be easily washed away.
3. Lemon Juice
A natural exfoliant, lemon juice takes off the top layer of the skin to reveal the lighter skin beneath. Its citric acid content provides a slight bleaching effect on the skin.
Procedure:
Squeeze about 1 tablespoon (15 milliliters) of lemon juice into a bowl, and then stir in 1 tablespoon of water.
Dip a cotton pad in the lemon-water mixture and apply it to your skin.
After 20 minutes, gently splash warm water
Pat dry your skin with a soft towel and then apply moisturizer to your face.
For best results, do the routine thrice a week. Note that some people's skin can be too sensitive to lemon juice, so if you experience any redness, irritation, or sensitivity to the sun, rinse your face immediately and refrain from applying it again.
4. Lemon, Honey, and Oatmeal Mask
For this treatment, mix lemon juice with honey and 1 tablespoon (1 gram) of oatmeal to make an exfoliating mask. Apply the mask onto your face and wherever else on your skin you wish. Leave the mask for 20 minutes.
You can rinse it off while making gentle circular motions with your fingertips. As you peel off this homemade mask, it also scrubs away dead surface skin cells and exposes the light skin underneath.
Alternatively, you can also mix 2 tablespoons (2 grams) of oatmeal with a dash of turmeric and a few drops of lemon juice. If you happen to have dry skin, you may instead use an equal mixture of cucumber and honey. Leave this mixture on your face and body for 15 minutes before rinsing.
5. Green Coconut Water
The waters of a young coconut also possess effective skin-lightening properties. In this homemade remedy, there is no mixing of water with other ingredients.
Dab a cotton pad in coconut water and apply it to your face and other parts of your skin that you want to lighten. Wait for 20 minutes before washing it off with warm water. Do this routine two times a day and for as long as you want.
6. Milk or Yogurt
Full-fat milk and yogurt contain alpha-hydroxy acids, which smoothly exfoliate your skin to give you as close to a milky-white light skin tone as possible. Simply soak a cotton ball into either full-fat milk or plain yogurt and apply it to your skin. Wash it away with warm water after 20 minutes.
7. Aloe Vera
Aloe vera has long been an ingredient in many skin care products. On its own, it can be just as effective in giving you a light or fair skin tone. It contains anthraquinone, which is a compound that lightens your skin by removing the dark surface layer of skin cells.
Just apply a thick coating of aloe on your skin and leave it for 20 minutes to be completely absorbed. You can wash it off afterward. However, if it feels soothing and nourishing, you may want to keep it on for more than 20 minutes. Do this treatment once a day until it yields favorable results.
Other Ways to Achieve a Healthy Light Skin Tone
Aside from sunscreen and other skin remedies, another way to help you achieve a light or fair skin tone is by living a generally healthy lifestyle.
Do regular workouts for about 30 minutes each day. Aside from exercise, you should also consume a healthy, balanced diet consisting of fruits, vegetables, whole grains, and lean meats. Drink plenty of water, around 130 fluid ounces (3.7 liters) for men and 91 fluid ounces (2.7 liters) for women.
With daily exercise, the right nutrients, and proper hydration, your skin will attain a natural, bright, healthy, and youthful glow.
Conclusion – Fair Vs Light Skin Tone
So to recap our initial question, what is the difference between fair vs light skin tone? Fair skin tone is associated with white skin in general. Light skin tone is a similar pale skin tone but has undertones of yellow or beige.
For non-Caucasians or mixed Caucasians, fair skin can refer to someone who has very light tan skin. It is as close to white without actually being white.
Skincare for people with light and fair skin tones is as important as any other skin tone. It is important to exfoliate, use moisturizer, and sunscreen. Sunscreen is perhaps the most important skin product to have for those with fair and light skin tones as their skin tends to easily burn.
With proper care, fair or light skin will remain healthy and clear for years.
Related reading:
What Is Pale Skin Tone? (With Pictures)
Pale Skin and Black Hair for Caucasians
What Is Pasty Skin Tone and Its Causes?