Disclosure: We may get commissions for purchases made through links in this post.
Most people, no matter what age or ethnicity, would like their skin to be more beautiful, even-toned, and radiant. To achieve healthy and beautiful skin, you must eliminate hyperpigmentation, spots, and blemishes.
One of the ways to achieve this is to get lighter skin or a lighter complexion. How is it possible to lighten the skin?
How to get lighter skin? To get lighter skin, you can use natural skin lighteners such as lemon juice or aloe vera; or you can use commercial skin lightening products (ideally containing natural ingredients).
There are so many ways to get lighter skin, and it's easier these days to treat hyperpigmentation and dark spots. The secret is to pick ingredients that will effectively target dark spots and hyperpigmentation. You may go the all-natural way or use commercially effective and safe skincare products.
Also, for an excellent lightening product, take a look at our top pick:
Click here to see it on Amazon.
How to Get Lighter Skin?
Many people want to get lighter skin in order to correct hyperpigmentation (some patches of skin become darker in color than the other parts around), blotchiness, and spots.
In this article, I will discuss both natural remedies and commercial skincare products to get lighter skin. Let's start with the all-natural way.
Natural Skin Lighteners
1. Lemons
The first method for how to get your skin lighter naturally is by using lemons. Lemons have been proven by various dermatological studies to be effective in skin lightening. Lemons are fruits packed with vitamin C, which acts as a natural antioxidant and astringent.
It aids very well in reversing hyperpigmentation, skin lightening, and overall skin improvement. More importantly, it is an all-natural remedy, not to mention inexpensive and safe!
Lemon Juice Solution – You can make this solution by mixing equal parts of lemon and water. Add the lemon-water mixture to a spray bottle and store it in the refrigerator. This solution will keep for a week when refrigerated.
You can also directly spray this solution to some areas of your skin that you want to lighten. Aside from using a spray, you can also use cotton balls or cotton swabs for application. Don't forget to rinse after 10 to 15 minutes.
Lemon and Honey – Another way to use lemon to lighten your skin is to mix lemon juice with honey. You can make this mixture by combining equal parts of lemon juice and honey.
You can use this mixture as a facial mask since it is stickier than the lemon juice solution. Skin lightening effects will be visible in 2-3 weeks if used about 4-5 times a week.
2. Yogurt
There's more to yogurt than being a delicious, nutritious, and quick snack! See, yogurt has lactic acid, which is very well known for its moisturizing and nourishing properties. It also contains zinc, which is known to help reduce wrinkles and fine lines.
Yogurt also has calcium, which can help in preventing dry skin. Its skin lightening property comes from the amount of B12 that it contains. Vitamin B12 has skin lightening properties that can help reduce and reverse hyperpigmentation.
You can apply yogurt directly to your skin. Remember, yogurt always needs to be chilled to preserve all the good bacteria in it. So, using chilled yogurt on your skin can be very refreshing, and at the same time, beneficial on your skin!
Leave it on the skin for up to approximately 15-20 minutes before rinsing with lukewarm water. Your skin will feel very soft and tender right after!
3. Honey
Another simple way to lighten skin is to add honey to yogurt. For this natural remedy, add half a tablespoon of honey to a tablespoon of yogurt. The resulting mixture will be pasty. Apply the paste to your skin and let it sit on your skin for about 15 minutes. Rinse off with warm water.
4. Yogurt-Lemon-Oatmeal Mixture
One of my favorite ways how to make your skin lighter is with a yogurt-lemon-oatmeal mixture. This mixture works well if you want to lighten and exfoliate your skin at the same time.
For this remedy, mix two tablespoons of yogurt with two tablespoons of crushed or coarsely chopped oatmeal. Next, add one teaspoon of lemon juice.
Apply this natural skin lightening mixture to your skin and rub gently in a circular motion. Leave it on your skin for about 15 minutes, and then rinse off with warm water.
Yogurt treatment is very effective when it comes to skin lightening. And if you do it regularly, for about 3-4 times a week, you'll notice improvements within two weeks.
5. Papaya
I personally love papayas! They're sweet, juicy, high in fiber, and one of the most nutritious fruits ever. On top of all that, papayas are widely known to lighten the skin very well. It has been added to many soap and beauty products because of its proven skin lightening and brightening effects.
So, how does papaya lighten the skin naturally? The fruit has papain, an enzyme that has skin lightening properties, which can also help reduce wrinkles and fine lines.
Here are some ways to use papaya for natural skin lightening:
Mashed Papaya – You can simply mash papaya and apply it directly to your skin. Make sure to remove the papaya seeds and use about 1/4 of the papaya fruit. In a bowl, spoon out the papaya and mash with a fork.
Apply mashed papaya to your skin and leave it on for about 10-15 minutes. Rinse off with warm water afterward. You'll probably feel a tightening sensation on your skin, more so if you apply it to your face, but that's just normal.
Papaya with Lemon and Honey – Another way of using papaya for skin lightening is to add lemon and honey. Use 1/4 ripe papaya, mash it, and then add one tablespoon of honey and one teaspoon of lemon juice. Stir the mixture and mix well.
Apply the papaya-lemon-honey mixture to your skin for approximately 15 minutes. Let it dry, and then rinse off with warm water. Make sure to wear an old shirt when applying papaya on your skin, as papaya tends to stain clothes.
6. Aloe Vera
More and more beauty products are adding aloe vera to their list of ingredients. The reason is that aloe vera naturally contains the natural compounds aloesin and aloin.
Aloin is a compound that destroys melanin in skin cells that have hyperpigmentation, while aloesin reduces the production of melanin. These two compounds work together, and with regular use of aloe vera, it helps reduce hyperpigmentation, leaving your skin even and radiant.
How to use aloe vera to lighten skin? Here are two simple aloe vera recipes that you can try at home to get naturally lighter skin:
Aloe Vera and Lemon Juice – Mix one tablespoon of aloe vera gel with two tablespoons of lemon juice in a bowl. You'll get a pasty mixture as a result. Apply this skin lightening mixture to your skin and leave it on for 15 minutes. Rinse off with warm water and pat your skin dry.
Aloe Vera and Rose Water – Mix these two ingredients in a bowl. Apply the mixture to your skin and leave it on for 15-20 minutes before rinsing off with warm water.
Apply this natural skin lightening mixture every two days, and you will notice improvements within three weeks. These are just two other ways to get lighter skin fast and in a natural manner.
7. Cucumber
Haven't we all received the advice of placing cucumbers on our eyes to reduce dark circles after partying or pulling an all-nighter because of work? Well, I hope you did heed that advice! How to make your skin lighter gradually over time? Use cucumbers!
Cucumbers have loads of vitamin A and vitamin C in them. Both of these vitamins are needed for skin lightening. They're loaded with antioxidants that help in giving us brighter and whiter skin.
Using cucumbers for skin lightening is also super easy. Just cut up a medium-sized cucumber into thin slices and then place them over your eyes.
If you want to treat hyperpigmentation on other parts of your face, place them over the entirety of your face. Leave the cucumbers on for 20 minutes, and then rinse off with warm water.
It is best to use chilled cucumbers for a more refreshing feeling! This natural beauty remedy can be very addicting that you'll want to do it every day. And the good thing is that you actually can!
All of these remedies are natural and simple ways of skin lightening. Just remember to avoid direct sun exposure when using any of the above skin lightening methods to maximize the effect.
Now, let's take a look at some commercial products that are effective in skin lightening.
Commercial Skin Lighteners
There are many skin lightening and brightening products out there that promise to lighten your skin. Some, of course, work better than others. Here are our top picks for how to get lighter skin fast. These are all effective skin lightening products that live up to their promises.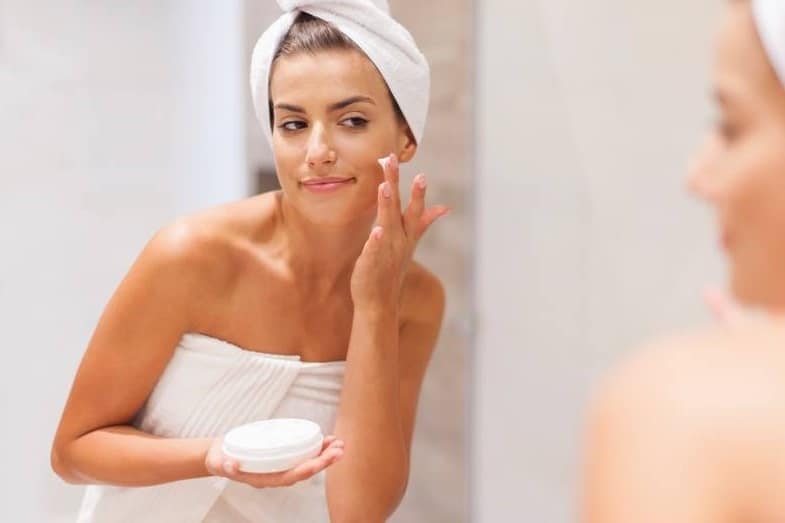 1. Olay Dark Spot Corrector
Click here to see it on Amazon.
Olay Dark Spot Corrector is a luminous face moisturizer that visibly transforms the skin in just 2 weeks, reducing the appearance of dark spots and discolorations within 8 weeks.
This hydrating cream is lightly scented, fast-absorbing, and non-greasy, making it suitable for daily use. The antioxidant-infused formula delivers tone-evening ingredients deep into the skin's surface, promoting bright, beautiful, and healthy-looking skin.
By simply massaging the moisturizing cream into the skin each morning and night after cleansing, users can experience the benefits of its illuminating properties, helping recapture a youthful glow.
The formula is designed to be effective on various skin tones, and over time, it evens overall skin tone appearance, revealing bright, beautiful, and healthy-looking skin while fading the look of dark spots, age spots, sun spots, and discoloration.
2. Kojic Papaya Whitening Soap
Kojic has been a proven product that lightens and whitens skin. It is a byproduct of the process of fermenting rice used for making saké in Japan. If you want your whole body to have lighter skin, using whitening soaps is better than creams.
With regular use, Kojic Papaya Whitening Soap reduces blemishes and skin imperfections, giving your skin an all-over lightening effect. It is safe to use daily, twice a day, and every time you shower.
Click here to see it on Amazon.
However, be careful when using this soap near your eyes as it can sting and burn if it gets into your eyes. Visible skin lightening effects will be noticeable after about ten days to two weeks.
3. 24K Gold Facial Mask
Click here to see it on Amazon.
The 24K Gold Facial Mask by White Naturals is a luxurious anti-aging formula designed to reduce the appearance of fine lines and wrinkles by boosting collagen production, resulting in smoother and firmer skin.
Beyond its anti-aging benefits, this facial mask addresses acne and scars, leveraging its anti-inflammatory properties to reduce blemishes, heal acne scars, and cleanse and minimize pores.
The mask also serves as a moisturizing treatment, restoring elasticity to dry skin and promoting a healthy, radiant glow. Additionally, the 24K gold formula acts as a detox for oily skin, regulating oil production and promoting overall skin health.
Incorporating this gold mask into your skincare routine offers a pampering self-care experience reminiscent of a spa ritual, providing a soothing and rejuvenating sensation for a serene moment of self-indulgence.
4. Neoprosone, Skin Brightening Gel Cream
Click here to see it on Amazon.
The Neoprosone Skin Brightening Gel Cream offers a potent formula designed to address uneven skin tone without causing harm. Featuring the Arbutin Complex, this gel targets dark spots on various body parts, including the face, knees, and armpits.
Suitable for all skin types, it serves as a safe alternative to harsh bleaching products. The gel's dynamic ingredients penetrate deeply, reducing the appearance of acne scars, age spots, freckles, and sunspots, promoting a flawless and youthful complexion.
Safe for sensitive skin, this brightening gel aims to restore natural radiance, minimizing the appearance of dark spots and discoloration.
Application involves a thin layer on cleansed, dry skin, preferably at night, followed by SPF 30 during and after treatment for optimal results. Mitchell Brands MEA emphasizes customer satisfaction, striving for great results and providing support to enhance the user experience.
Conclusion – How to Get Lighter Skin?
There are lots of ways to get lighter skin. If you choose to go the natural way, you may try using the following ingredients:
Lemon
Yogurt
Papaya
Aloe vera
Cucumber
For commercial products, here are our top picks:
La Roche-Posay Pigmentclar Dark Spot Cream Face Serum with LHA – Click here to see it on Amazon – Our #1 Top Pick!
Kojic Papaya Whitening Soap – Click here to see it on Amazon
Natura Bisse Diamond White Glowing Mask
First Lady Papaya Skin Lightening Gel
These products are all proven to be effective in getting lighter skin. They are excellent for treating dark spots, sunspots, and hyperpigmentation. Whether you try a commercial product or a natural remedy, it is important to be consistent in use.
So try it out for at least two weeks, as your skin won't lighten overnight. But with daily, consistent use, you will notice your skin becomes lighter and brighter in no time.
Related reading:
How to Brighten Your Skin – 12 Tips
What Does Bleach Do to Your Skin?
How Long Does It Take for Lemon to Lighten the Skin?
How to Get Pale Skin? (Fast, Natural Tips)