Disclosure: We may get commissions for purchases made through links in this post.
Calamine lotion has long been recommended as a treatment for eczema. Is it really effective, though? Is calamine lotion good for eczema?
Calamine lotion is a good home remedy for alleviating the effects of eczema. Zinc oxide is the primary ingredient (98%) of calamine lotion.
Research has proven that this substance is a treatment option since it inhibits the mast cell's degranulation. Thus, this lotion reduces the discharging of histamine, which is the main cause of skin itching.
This beneficial lotion can also dry weeping or oozing minor skin irritations. It is also effective in alleviating the skin's itching caused by insect stings and bites, sunburn, poison ivy, measles, sunburn, and chickenpox.
Read on to learn more about the ability of calamine lotion to treat eczema, how to use it for this purpose, its many benefits, and other tips.
Is Calamine Lotion Good for Eczema?
Calamine lotion is a good option in treating eczema. Research has shown that this lotion can alleviate eczema symptoms because of its primary ingredient, Zinc oxide.
Zinc oxide is derived from Zinc (Zn). Calamine oil is 98% Zinc oxide and 2% Ferric oxide. Zinc is a metallic element that is abundant in nature.
Researchers have recently acknowledged the important role of zinc in the growth and development of infants. Its capacity to help control the spread of the common cold virus and other viruses is already well-known.
Like other elemental metals, Zinc possesses a unique electrical charge proven to give the body therapeutic benefits and provide relief from different diseases. There are also no known adverse side effects or allergies associated with the use of topical zinc oxide.
Why Is Calamine Lotion Effective for Eczema and Other Skin Conditions?
While the exact mechanism of how this lotion works is unknown, its contents are known to possess skin astringent and protection capabilities that can relieve itching. These contents also seem to inhibit the growth of bacteria, thus preventing the worsening of infections.
Itchy skin leads to uncontrolled scratching, which leads to open wounds and further deterioration of the skin's condition. You should apply calamine lotion or a similar moisturizer to your skin at the first sign of eczema.
What Is Calamine Lotion?
Calamine lotion is a well-known topical medication that is used to treat the following mild itchiness, including:
Eczema
Poison oak
Insect bites
Poison ivy
Sunburn
Other mild skin conditions
This lotion may also help in drying out skin irritations.
Calamine lotion is applied to the affected skin as a lotion or cream. This substance works by inducing a cooling sensation on the skin as it evaporates in the air. It prevents the degranulation of the mast cell. There are no significant side effects in using this topical medication.
While it is relatively safe to use, you need to follow your medical provider's directions or use it according to the indications prescribed in the bottle or box.
To prevent contraindication, you should inform your medical provider of your existing medical conditions, as well as the other medicines you are taking and your allergic reactions.
There are no known studies that show if calamine lotion can be passed through breast milk. Therefore, if you are breastfeeding, don't use this lotion without your doctor's approval.
There are also no studies showing if calamine lotion is not harmful to unborn babies. Therefore, if you are pregnant, ask your doctor's permission before using it.
Calamine lotion is a topical medicine. That means it should be applied only on the skin and not to be ingested. If it accidentally gets into your mouth, eyes, nose, or any other orifices in your body, you should immediately rinse it with water.
Keep calamine lotion out of reach of infants and small children. Only use calamine lotion for its intended purpose.
Is it good to use calamine lotion for a baby's eczema? You can use calamine lotion for eczema in babies. Calamine lotion is gentle enough for baby skin. It will help relieve and soothe the baby's eczema as well as prevent the baby from scratching.
Benefits and Risks of Calamine Lotion – for Eczema and Other Skin Issues
Benefits
Using calamine lotion can bring you many benefits. Some of the said benefits include:
Its primary ingredient, Zinc oxide, is proven to help heal the skin after injury or burns.
It alleviates the unpleasant and uncontrollable itchiness of the skin and helps soothe skin rashes.
It helps the skin to retain moisture. Your skin is less capable of maintaining moisture because of eczema. By applying calamine oil on the skin, a protective layer is formed on top of your skin. This layer helps your skin to retain moisture.
It prevents the flare-up of eczema. Regular application of calamine oil on the skin will discourage eczema flare-ups.
It can stop the spread of infection. The active ingredient of calamine oil contains anti-bacterial properties. This component helps to sanitize the skin damaged by eczema and keeps bacteria out so they can't cause infections.
It dries weeping and oozing from minor irritations of the skin.
It can be used as a treatment option for many skin conditions and irritations that cause itchy skin. It can't treat underlying conditions, but it can alleviate their symptoms.
It can be used as an acne treatment. Calamine lotion can dry out pimples and eventually make them disappear.
It can be used to treat chickenpox, poison ivy, mosquito bites, heat rash, poison oak, poison sumac, and hives.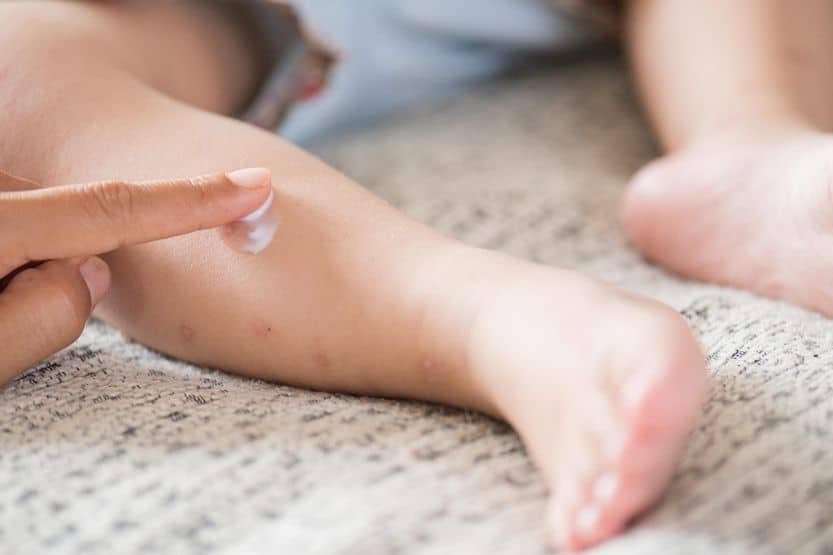 Risks
While calamine oil has many benefits, it also has a few risks. These risks include the following:
A mouthful of calamine oil, if swallowed, can cause minor symptoms. Its ingredients are irritating to the stomach lining, which can result in an upset stomach and vomiting.
Swallowing a small amount of calamine oil will not cause any adverse symptoms.
Calamine lotion has a base element that has a laxative effect. If swallowed, it may result in diarrhea or loose stools. The symptoms will disappear as the amount of calamine lotion is taken out of the body.
It can produce allergic reactions such as difficulty breathing, hives, and swelling of the lips, face, tongue, or throat. If the condition leads to redness, rash, pus, or other kinds of infections, call your medical provider at once.
An adverse interaction can result if you are using other skin treatments. Get your doctor's approval before using calamine lotion if this is your situation.
If a child is found with calamine lotion in the mouth, don't panic. Rinse the baby's mouth with water and help them to spit it out. Wipe the mouth if the child is not able to spit it out. After rinsing, give the baby a serving of milk or water. If the problem worsens, call your doctor at once.
Does calamine lotion help eczema? Yes, since calamine lotion contains zinc oxide, which inhibits histamine discharge, the main reason behind allergies. Utilize it for its many benefits and ensure that you take note of the risks that come along with using it.
How to Use Calamine Lotion on Eczema
The general application of calamine oil for treating eczema and other skin conditions is almost the same.
A detailed procedure for using calamine lotion to guide you is enumerated below:
Follow the instructions indicated on the label or as directed by your medical provider. Only use the right or prescribed amount of calamine lotion, no lesser or no greater, and only for the time prescribed, not shorter or longer;
To use calamine lotion, first, wash the affected skin with warm water. Then let the skin dry completely;
Shake the bottle of calamine lotion thoroughly before every use;
Apply the prescribed amount of lotion directly to the skin. You can use your clean finger or a cotton ball to apply it;
Rub the lotion gently and let it dry on your skin;
After applying the lotion on your skin, wash your hands with soap and water;
A thin film of calamine lotion will stay on the skin as it dries. If you want, you can cover the treated skin with a cloth. But take note that calamine oil can leave stains on fabrics;
Follow the prescribed treatment period. If there is no visible result after that period, call your medical provider before applying the lotion again for another day; and
Store leftover calamine lotion at room temperature and away from heat and moisture. Do not refrigerate leftover lotion.
Can you use calamine lotion on eczema? Yes, because calamine lotion contains zinc oxide that can prevent the mast cells' degranulation, which triggers allergies. Make sure to follow the steps listed above for the product to be effective.
Dosage
Calamine lotion is typically prescribed differently for different people. I will only discuss average doses for purposes of disseminating relevant information. If your doctor has prescribed how you should apply the lotion, follow their directions completely.
The amount of lotion you will apply depends on the strength of the formulation. Besides, the number of doses each day and the number of days you need to apply the lotion depend on your medical condition.
That said, for minor skin conditions and irritations, apply calamine lotion to the affected skin area as often as needed. Adults and children can use this dosage. If the conditions do not improve after 7 days, call your doctor for further advice.
Additional Tips for Using Calamine Lotion
Calamine lotion and eczema are associated with each other. To be able to get the most out of calamine lotion, consider the following tips:
If you have sensitive skin, do not leave the lotion overnight on the affected skin area. But if your skin is not very sensitive, you can leave calamine lotion on it overnight;
Use calamine lotion after every three to four hours. Initially, after application, the itching will seem to get worse. But be patient because the sensation will stop later on. The relief from itchiness may last for hours. If the itching starts again, re-apply a fresh coat of lotion;
Remove dark spots with calamine lotion. The World Health Organization included this lotion among its "List of Essential Medicines." This substance contains Kaolin, which is used as an ingredient in creams that remove dark spots. Regular application of calamine lotion lightens dark spots;
Use calamine lotion more than hydrocortisone. Hydrocortisone is effective for small itchy skin areas, while calamine lotion is good for bigger areas. Calamine lotion is also less harmful to the skin;
Use Lacto calamine lotion. This special type of lotion is better than ordinary calamine lotion because it is infused with other ingredients such as kaolin clay, neem, glycerin, Vitamin E, and zinc oxide. It is creamy and can treat acne-prone skin. It also helps to moisturize the skin;
Control oily skin with Lacto calamine lotion. It is a water-based lotion that will keep your skin free of greasy oil for hours;
Remove blackheads with Lacto calamine lotion. Apply this lotion regularly on your nose, and you won't have to go to the dermatologist to have your blackheads removed;
Remove dead skin with Lacto calamine lotion. Dead skin cells on your skin are easy to remove with regular use of this lotion.
Use Lacto calamine lotion as your makeup base. This lotion will provide you a smooth makeup base and will make your makeup last longer; and
Apply Lacto calamine lotion on your under-the-breast skin overnight. This will remove the whiteheads that can form on the skin under your breasts.
Can calamine lotion be used for eczema? Yes, you can use it to treat eczema for adults and infants alike. The dosage will depend on how strong the formulation is. However, if after seven days and your skin's condition did not improve, then consult a doctor.
Calamine Products for Eczema
There are different types of calamine lotions available at Amazon. These products can be used to give your skin relief from itchiness and other skin conditions.
If you are convinced about the effectiveness of this lotion, take a look at the following products:
1. Humco – 40796001 HUMCO Calamine Lotion, 6 fluid oz.
This lotion comes in a 6 fluid ounce bottle.
Click here to see it on Amazon.
2. Calamine Drying Lotion Topical Suspension USP Skin Protectant
This product comes in 2-pack, with each bottle containing 6 fluid ounces.
Click here to see it on Amazon.
3. Aveeno Anti-Itch Concentrated Lotion with Calamine and Triple Oat Complex
This lotion is a good skin protector with fast-acting relief. It comes in 4 fluid-ounce bottles.
Click here to see it on Amazon.
Conclusion: Calamine Lotion Eczema Treatment – Is it a Good Treatment?
An effective home remedy that can control the symptoms of eczema is calamine lotion. This lotion has zinc oxide as its primary ingredient.
Research has found that this substance is a good treatment option for eczema because of its ability to inhibit the mast cell's degranulation. It can also reduce the excretion of histamine, which is the primary reason why the skin itches.
Related reading:
Noxzema for Eczema [Is Noxzema Good or Bad for Eczema?]
Accutane Eczema [Is Accutane Good or Bad for Eczema?]
Best Vitamins for Eczema and Psoriasis – Our 7 Picks