Disclosure: We may get commissions for purchases made through links in this post.
If you have ivory skin, it is understandable if you want to flaunt your skin complexion, but there's work you need to do to ensure that your skin remains smooth and glowing.
Ivory skin tone, if well-cared for, can appear pure and immaculate. Ivory skin could also look drab and lifeless if it is not properly cared for.
What is ivory skin tone? Ivory skin tone is generally creamy white, like the color of an elephant's ivory tusk. Those with ivory skin tone often have a yellow, peach, pink, or gold undertone. Of the three main white or light skin tones, porcelain skin is the lightest color, alabaster skin is darker, and ivory is the darkest of the three.
Ivory skin can be classified as Type 1 on the Fitzpatrick Pigmentary Phototype Scale (see image below). Ivory skin, also referred to as fair skin, is generally sensitive, never tans, and always burns. Examples of ivory skin are fair-skinned, fair-haired Caucasians and Asians.

Read on to learn more about ivory skin tone, including examples of celebrities with ivory skin.
I'll also list the best colors and makeup to go with ivory skin and give skin care tips for anyone with ivory skin tone.
Also, for an excellent hydrating cleanser for ivory skin, take a look at our top pick, the ZO Skin Health Offects Hydrating Cleanser:
Click here to see it on Amazon.
What Is Ivory Skin Tone?
In general, the ivory skin tone is very fair with a blue undertone. Ivory skin tone is also near the yellow color since this type of skin tone suggests the image of dusky exotic skin. But those who have ivory skin tone may have several different undertones to their skin.
That is why if you have this skin tone, you need to determine the undertones that you have on your skin. If you know your skin undertones, you will be able to choose a suitable foundation, which will make your skin look warmer.
Hollywood Celebrities with Ivory Skin Tone
To better understand what ivory skin tone looks like, I have gathered a few pictures of some female celebrities who have this skin type.
1. Emma Stone
The first picture is that of Emma Stone, who starred opposite Ryan Gosling in the musical film La La Land and opposite Andrew Garfield in the movie, The Amazing Spider-Man. She is pictured here on one of the Oscar Nights: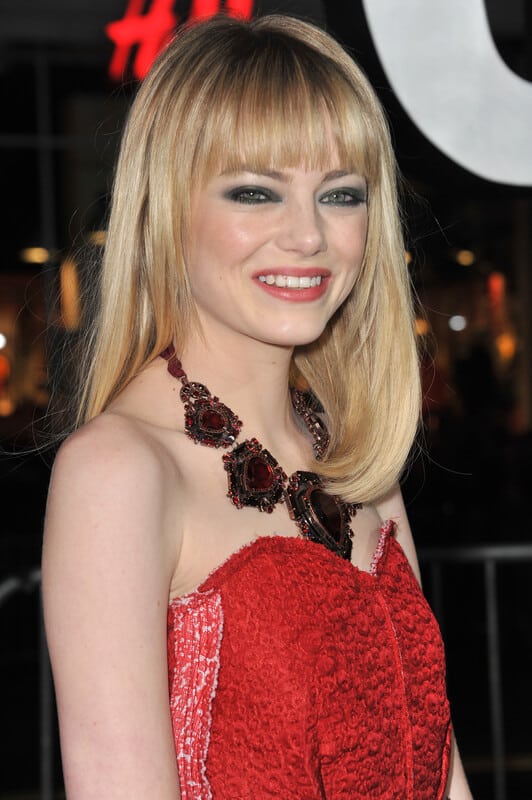 2. Amanda Seyfried
Another female star with ivory skin tone is Amanda Seyfried, the actress in the bio-drama film Lovelace. Like Emma Stone, Amanda's ivory skin is very fair and clear:
3. Christina Hendricks
Third on our list of celebrities with ivory skin tone is Christina Hendricks, the star of the hit TV show Good Girls. Funny as she is in the show, she is also able to flaunt her gorgeous ivory skin every time she appears on the small screen. Here's how her fair, ivory skin looks close up.
What Is the Difference Between Ivory Skin Tone and White or Cream Skin Tone?
If you compare ivory skin tones with other lighter skin tones, such as cream, you will find that the primary difference is in the yellow undertones. Ivory is not usually darker than cream, but almost always, its yellow undertone is less noticeable.
The cream color comes from the butterfat of milk cream. This butterfat is a dense liquid that is slightly yellow with a silky, luxurious appearance. That is why its connotation is extravagance – if you will consider the aphorism crème-de-la-crème, which loosely translates to the cream of the crop.
Cream has a yellow cast, which adds a slight shimmer to the denseness of white. Ivory comes from the ivory tusks of elephants, which possess hard and white dentine.
The ivory color of elephant tusks is slowly tainted with yellow as the tusks age. Eventually, the color becomes buttery cream. The main difference between ivory and off-white is that ivory is slightly darker.
How is ivory skin tone different from porcelain and alabaster skin tones? These terms usually signify foundation colors. However, the exact color also depends on the particular brand of the foundation.
Different brands have different systems of naming their products, so it can be tough to accurately determine what the standard of ivory should be as far as skin tone is concerned.
A simple way to distinguish porcelain, alabaster, and ivory skin tones is that porcelain is the lightest color, alabaster is darker, and ivory is the darkest of the three. But primarily, they are all light or white colors.
In other words, ivory skin tone is the darkest of the white or light skin tones.
What Colors Are the Best for Ivory Skin Tone?
Some of the colors that will flatter your ivory skin are gray and navy blue. You can also wear lighter shades of orange and red, such as rose red, rose pink, light pink, apricot, and peach. All of these light colors will complement your ivory skin tone very well.
As a general rule, you should choose color hues that provide a contrast with your ivory skin tone. Since your complexion belongs to fair and light skin, you should pick clothing with darker colors. These colors could include burgundy, navy, brown, and gray.
Your ivory skin tone will also look washed out and lifeless if you will wear soft colors and pastel shades. So, if you can, avoid wearing all white, beige, and other lighter hues.
What Makeup Is the Best for Ivory Skin Tone?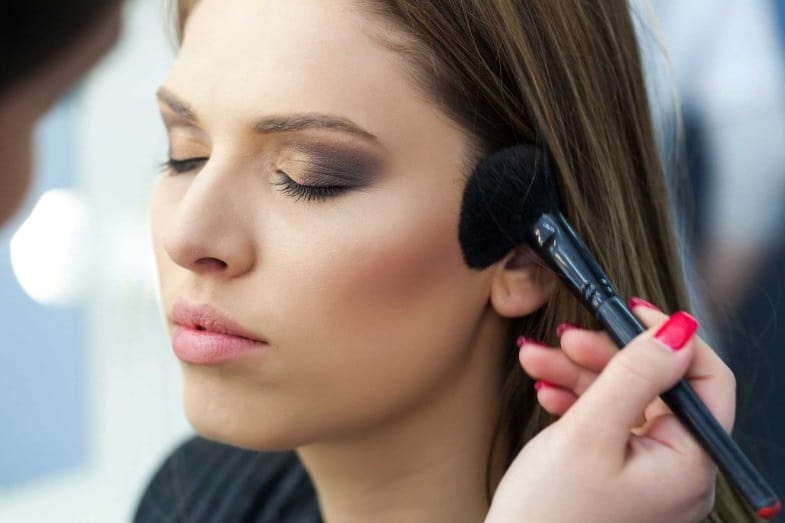 Your complexion will determine if you have a golden, peachy, pinkish, or bluish undertone. If your skin undertone is blue, violet, pink, or reddish rose, the best makeup for you are cool colors such as violet, blue, and pink.
But if your skin undertone is golden, yellow, or pale peach, pick warmer colors, such as hues of brown, coral, and peach.
Foundation
For your foundation, choose one that is similar to the skin on your jawline or one that is one-half lighter. If you happen to have a pink or blue undertone, choose a foundation with a pink tone. But if you have a warm complexion, pick a pale peach or golden ivory foundation.
Should you get a tan in the summer months, choose a foundation that is a shade darker and combine this shade with your usual foundation to get the perfect color. To hide some of your skin blemishes, imperfections, or redness, use a light-toned concealer or one that is pale green.
Blush
If you want to bring some life into your skin, apply a touch of blush on your cheeks. Pick a light blush that has a soft tone with some shimmer in it. Choose a color that closely matches your ivory skin tone.
Apply the blush with a feather-light touch on your cheeks, or you can sweep it along the apples of your cheeks. Also, don't overdo it. If you just apply the right amount of blush, it should give a hint of color to your pale skin and add some contour to your face.
Eye Shadow
For your eye shadow, the best colors are neutral colors, such as champagne, the palest pink, and vanilla. Sweep the eye shadow from your lash line to your brow bone. For evening events, try a bolder color on your eyelids. Keep away from shades of yellow and bright pinks. Just keep your face color neutral.
If you have blue eyes, you can try copper or bronze shades. They will complement your eyes very well. But if you have brown eyes, try a rich navy blue shade. And if your eyes are green, the best will be purple and violet hues.
Lipstick
When it comes to wearing your lipstick, your two options are subtle and bold.
Steer away from nude colors because they can make you look too pale. But if you have some hints of color in your skin, you can wear lipstick that has a brighter tone. A natural red lipstick will give you a bolder look. For ordinary days at work, toffee and pink shades are the most appropriate.
Skin Care Tips for Ivory Skin Tone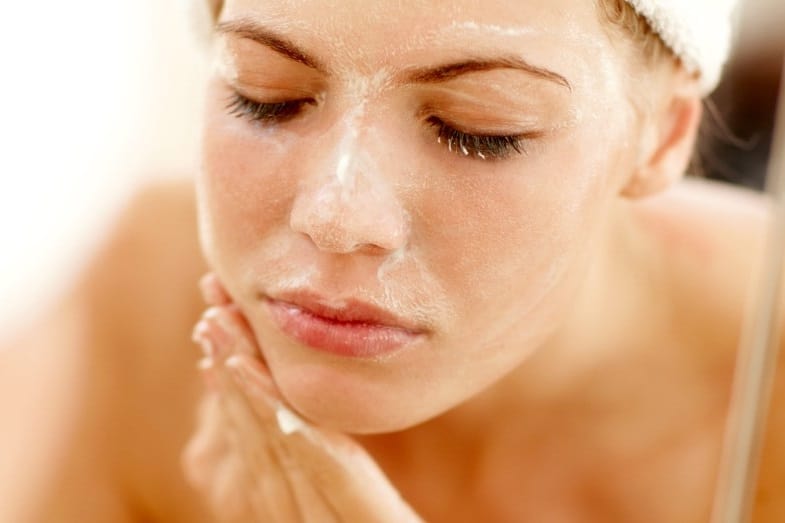 Ivory skin tone is a delicate type of complexion. If you have it, you should take the necessary steps to care for it. Below are 9 tips to help you maintain a healthy and stunning ivory skin.
1. Use a Broad-spectrum SPF
With ivory skin, you are at greater risk of sun damage, so you need to wear a broad-spectrum SPF every day, even if the sun is not brightly shining. Follow a set of instructions on the bottle since you may have to reapply the cream at least two times a day.
One of the best products that will give your skin its required sunscreen protection is the Dermalogica Dynamic Skin Recovery SPF50.
Click here to see it on Amazon.
It is rated at SPF 50 and is also hypoallergenic and fragrance-free. As a bonus, this SPF moisturizer is loaded with antioxidants to prevent signs of aging, such as wrinkles and fine lines.
2. Use a Calming and Soothing Cream
Ivory skin and other light skin tones are quite prone to redness. Applying a calming and soothing cream will prevent your skin from turning red or at least minimize the redness if it has already started.
Use soothing creams that only contain gentle and mild ingredients. Those with natural ingredients are the best. One product that you can use is the Colorescience All Calm Clinical Redness Corrector.
Click here to see it on Amazon.
It will immediately soothe your stressed skin with its 3-in-1 formula.
3. Cleanse Your Face Regularly
To maintain a healthy and lively ivory skin, you should cleanse your face twice daily–once after waking up in the morning and once before going to bed at night. If you can do it only once, cleanse your face at night.
Click here to see it on Amazon.
Again, steer away from facial cleansers that contain harsh chemicals. Limit yourself to products made with natural and gentle ingredients. One product that comes to mind is the ZO Skin Health Offects Hydrating Cleanser.
The gentle formulation of this product will not leave any unwanted side effects on your skin.
4. Wear a Hat If You're Going Out
If your skin is quite sensitive to the sun's UV rays, you should always wear a hat when going outdoors. Also, avoid exposing your ivory skin to the sun's rays whenever and wherever possible.
5. Use Self-tanning Lotion
If you want to get a tan, do not go sunbathing or to tanning salons. With your light skin tone, your skin can quickly develop fine lines, wrinkles, age spots, and other skin blemishes.
A self-tanning lotion would be safer than going out in the sun. A self-tanning lotion gradually leaves incremental shades as you apply it. By using this product, you can control the degree of tan that you want to have.
As soon as you get the right tan, you can stop using the product without any dangerous side effects.
6. Use Face Primer
If your ivory skin is oily, you can use face primer to control oil secretions in problematic skin areas. Use oil blotting sheets to wipe or blot away excess oil from your nose, forehead, and chin.
7. Use a Concealer
If your skin is reddish due to pimples or because of some broken capillaries, you can use a concealer or foundation to hide the redness in your face.
8. Don't Touch Your Face with Unwashed Hands
Stop the habit of touching your face every time you want to. Your ivory skin tone is very sensitive to irritants that can cause a variety of skin issues. So, remember, never touch your face with unwashed hands.
9. Don't Sleep with Your Makeup On
Always remove your makeup using an appropriate facial cleanser before going to bed at night.
Conclusion – What Is Ivory Skin Tone?
So, to revisit our initial question, what is ivory skin tone? The color of ivory skin is creamy white, like the color of an elephant's tusk. Those with ivory skin tone often have a peach, yellow, gold, or pink undertone.
Of the three main white or light skin tones, porcelain skin is the lightest color, alabaster skin is darker, and ivory is the darkest of the three.
Wear darker or more vibrant colors to contrast the fair white ivory skin. Pastel and soft colors look lifeless and washed out.
To take proper care of ivory skin tone, follow these 9 skin care tips:
Use a Broad-spectrum SPF
Use a Calming and Soothing Cream
Cleanse Your Face Regularly
Wear a Hat If You're Going Out
Use Self-tanning Lotion
Use Face Primer
Use a Concealer
Don't Touch Your Face with Unwashed Hands
Don't Sleep with Your Makeup On
Related reading:
Porcelain Skin Tone Defined (With Pictures)
Beige Skin Tone – What is It? (With Pictures)
Mocha Skin Tone Defined (Plus Care Tips)
What Is Native American Skin Tone? (With Pictures)