Disclosure: We may get commissions for purchases made through links in this post.
Having pink skin is a blessing as it has a natural, youthful-looking glow. However, you also need to take care of your skin properly to help maintain its lovely and vibrant look. Although this skin tone is gorgeous, like all skin tones, it has pros and cons.
What is pink skin tone? Pink skin tone is skin that has a generally pink or pinkish-red undertone. A pink skin tone also generally has cool undertones.
A cool undertone is typically associated with skin that gives hints of ruddy red, pink, or blue colors. A cool undertone will also mean that the veins in your forearm are blue or bluish-purple when you put it under a bright light.
Pink skin tone is classified as type 1 or type 2 on the Fitzpatrick Pigmentary Phototype Scale (See image below).

If you have a pink skin tone, it will be difficult for you to tan your skin. The reason is that your skin contains lesser amounts of a pigment called melanin. Your skin will also easily burn and quickly blush if you have lower levels of melanin.
Read on to get more information about pink skin tone, examples of celebrities who have this complexion, and the best colors and makeup to wear. I'll also list valuable skincare tips for maintaining its natural glow.
Also, for excellent cleansing milk for anyone with pink skin tone, take a look at our top pick, the Bliss Clog Dissolving Cleansing Milk:
Click here to see it on Amazon.
What Is Pink Skin Tone?
Another way of knowing if you have a pink skin tone is to look at the underside of your wrist. If the color of your veins is blue or purple, your skin tone is pink. Generally, people with pink skin tones have a pinkish-red complexion. This skin complexion also has cool undertones.
You should be careful when going out in the sun because you can easily get sunburned. Even if the sun is not out, your skin is still susceptible to sunburn. To protect your skin from the sun's harmful UV rays, you should always wear sunscreen when going out.
Celebrities with Pink Skin Tone
You will better understand what a pink skin tone looks like if you take a look at the photos below. These famous female celebrities are blessed with pink skin tones.
1. Jennifer Lawrence
Jennifer Lawrence is known for her lead role in The Hunger Games trilogy and other blockbuster movies. Here's Jenny with her flawless pink skin tone.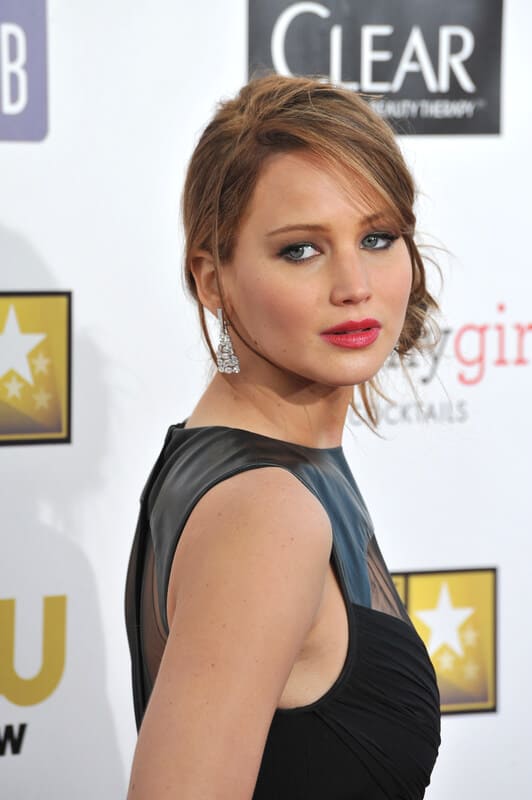 2. Christina Aguilera
Our next example is singer-actress Christina Aguilera, who has a string of hit songs that topped the Billboard Charts. Here's Christina displaying her attractive pink skin tone.
4. Sandra Bullock
Last but not least is Sandra Bullock, who also starred in many blockbuster Hollywood movies. Here's her photo showing her glorious pink skin tone.
The Best Colors for Pink Skin Tone
Your pink skin tone belongs to the cool undertones. That means you can look good with clothes and dresses with hues belonging to the cool end of the color spectrum.
Colors to Wear
So, what are the best colors for pink skin tone? They are emerald greens, sky blues, light grassy tones, frosty purples, pastel colors, and cobalt. If you want to wear warmer colors, choose super-pale yellows or lipstick reds.
You can also try deep purple, raspberry pink, deep red, or strawberry. These colors will create a beautiful contrast with the color of your skin and will especially bring out hints of colors in your cheek instead of just looking pale.
The colors of jewels will also bring out the best in your complexion. Try wearing amethyst, turquoise, and emerald and see its beautiful effects on your skin.
Colors to Avoid
How about the shades that you need to avoid? Well, stay away from metallic colors, especially silver. If you want to try metallic, just go for gold.
Additionally, you need to avoid colors that are too light and bright as they will only make your skin look very pale. Lilac, yellows, and neons will clash with your skin. Black will make you look gothic, and white will make you look sick.
The Best Makeup for Pink Skin Tone
If you don't choose your makeup carefully, your skin will quickly blend with the white walls behind you. But if you pick the right makeup colors, your skin will glow. Here are some valuable tips in choosing makeup for your pink skin tone.
1. Choose a Pink-based Foundation
For your cool undertones and pink skin tone, use pink-based foundation shades. You have the liberty of trying a variety of shades, but one of the best foundations that you can use is something that will produce a matte finish. Try a variety of shades until you find the best hue that makes your pink undertone skin glow.
2. Choose a Concealer That Is Not Too Light
You already have a light skin tone, so don't choose a concealer with a color that is too light. Using such a concealer will only leave bright spots on your face and will only do more harm than good. Choose a concealer that is not too light nor too dark and just right for your skin complexion.
3. Blush Is Important
You need to put blush on your cheeks to make your skin alive and vibrant. Your pink undertone skin tone tends to look pale, and even just a little blush can make a mountain of difference. A burst of color on your cheeks will provide a certain glow, making your skin look radiant instead of dull.
However, avoid using dark colors as they will only make you look strange. Limit your choices to light reds and subtle pinks to produce a rosy red and lively look.
4. Bronzer Is Just as Important
A bronzer is also necessary because it will give life to pink skin tones and make them pop out. If you're unable to get a natural tan, using a bronzer is the next best thing. The right amount of bronzer will infuse life onto your skin. But don't apply too much, or you might just appear over-tanned.
5. Apply Black Eyeliner
If your skin is light, most probably, every element in your face is also light, including your eyelids. Make your eyes stand out by applying black eyeliner. Doing this will make your eyes look more attractive, maybe even seductive.
Apply a generous amount of black eyeliner, and you will acquire an eye-catching look. You can also try navy blue or deep purple eyeliners if you are the adventurous type.
6. Add Color to Your Eyebrows
Most likely, your eyebrows are also light-colored. If that's the case, you need to apply eyebrow color to highlight your eyebrows. Choose a shade that is slightly darker than your pink skin tone so that it can blend with every element on your face.
7. Apply Eye Shadows
If you are going out for an evening event and you want to impress your date, wear eye shadow. Also, use eye shadows to show your creativity. There are plenty of shades that you can choose from. Blues and bright purple are just right for a night on the town. Soft pinks would look lovely in the office.
8. Wear Mascara
Light-skinned people can also have light-colored eyelashes. So if you want to improve the looks of your eyelashes, wear mascara. Black mascara is the best and will surely make your eyes look sexy and alluring.
9. Highlighter Is Not Important
If you are light-skinned, your face is already highlighted, so avoid using highlighters. If there are dark circles under your eyes and other unsightly spots on your skin, just use a concealer to hide them.
In applying any kind of makeup, use only the right and reasonable amount. In other words, don't over-apply anything that you will put on your face.
What you need is to add a natural glow that is often lacking in pink and light skin tones. For instance, don't mix bright-colored lipsticks with bright-colored eye shadows.
Essential Skin Care Tips for Pink Skin Tone
Pink skin tone is a lovely complexion. But harmful elements, such as the sun's rays and pollution, can cause irritation or significant damage to this skin complexion.
To maintain your skin's natural beauty, you have to perform the essential skin care that it needs. Here are some essential skin care tips to help keep the beauty and health of your pink skin tone.
1. Cleanse Your Face Daily
If your skin is sensitive or irritated, cleanse your face once daily using a basic cleanser. For a gentle second cleanser, micellar water or a gentle makeup remover will be the best to wipe off dirt and makeup. You can cleanse your face in the morning or at night, whichever works best.
A good cleanser that you can use is the Bliss Clog Dissolving Cleansing Milk.
Click here to see it on Amazon.
This face cleanser can dissolve makeup and dirt. It also has vitamin E and pure grape seed extract that will protect your skin from free radical damage. This skincare product will help refresh your skin while maintaining natural and balanced moisture.
2. Moisturize in the Morning
Apply a lightweight moisturizer that contains at least SPF 30 on your face each morning. It should preferably contain antioxidants to protect your skin against the damaging effects of the sun's rays.
You can also make a homemade moisturizer by mixing honey with cucumber. Mash one piece of cucumber and mix it with honey. Apply the mixture directly onto your skin. Juice from cucumber is excellent for your skin. Also, don't forget to wear sunscreen before you go out.
3. Moisturize Before Going to Bed at Night
Moisturize your face at night with a heavier moisturizing cream. While you are sleeping, the thicker moisturizer will replace the antioxidants that your skin has lost during the day.
One moisturizer that can help maintain the suppleness of your skin is the Orlane Paris Super Moisturizing Concentrate.
Click here to see it on Amazon.
This moisturizer will provide you with an intensive hydration treatment. It will restore an optimal moisturization level on your skin and will also help lock in moisture all day and night. This moisturizer is ideal for dehydrated skin, including skin exposed to extreme weather conditions.
4. Exfoliate with a Gentle Exfoliant
Dead skin cells should be removed each day for your skin to be in the pink of health. Pink skin tone is often sensitive to harsh chemicals. So, you should only use a gentle exfoliant when removing dead skin cells.
Those without gritty additives or granules are the mildest of all exfoliants. You can also try exfoliating gels or face peels.
If you don't like to spend that much on an exfoliant, you can make your own. You'll need strawberries, some yogurt, papaya, and oil (or water). Combine all these ingredients to create a natural exfoliant.
These fruits contain antioxidants that can remove dead skin cells and dirt. Apply the mixture on your face for about 10 minutes, and then wash it off gently with clean water.
5. Wear Sunscreen Protection Every Day
Never go out in the sun without wearing sunscreen protection. Your light skin will easily get sunburned if you don't wear any protection against the harmful rays of the sun. When choosing a sunscreen product, look for those that are at least rated SPF 30 or SPF 50.
Colorescience Sunscreen Daily UV Essentials is a good sunscreen protector you can use every day. It is a combination of multilevel sunscreen elements that will provide you with top-notch sunscreen protection.
Click here to see it on Amazon.
6. Use Self-tanning Products
To add shade to your pink skin tone, don't go to tanning salons or solariums and use their tanning beds. It is safer just to use self-tanning products as they are gentler to your skin and are easier to use.
You can also control the shade that you want and stop the process once you are satisfied with the tone that you have acquired.
Conclusion – What Is Pink Skin Tone?
So, to revisit our initial question: What is pink skin tone? People with pink skin tones have a skin color that is typically pinkish red with a pink undertone. If you have this skin tone, you have cool undertones. Usually, this skin tone gives hints of pink, ruddy red, or blue colors to the skin.
You have a pink skin tone if the veins in your forearm are bluish-purple or blue when you put it under bright light. Pink skin tone goes well with pink, red, and shades that are slightly darker than your skin tone.
Related reading:
Pink Spots on Skin: Causes and Treatments
Yellow Spots on Skin: Causes and Treatments
Uneven Skin Tone – How to Even It Out? 11 Tips