Disclosure: We may get commissions for purchases made through links in this post.
A tan skin tone has many benefits. It is a desirable skin tone for many but can be difficult to describe. What is tan skin tone?
Tan skin tone, as the name implies, tans easily. It is a pale brown skin tone that is similar to Mediterranean skin tone, often with golden or olive undertones. Natural, tan-colored skin also shows fewer signs of aging over time.
Tan skin tone ranges from Type 3 to Type 5 of the Fitzpatrick Pigmentary Phototype scale (see image below). This skin tone easily tans, and it is less susceptible to signs of aging such as wrinkles and fine lines.

Read on to know more about tanned skin tone as well as the best colors and makeup for tan skin.
What Is Tan Skin Tone?
In Western or Northern countries, tan skin has almost always been desirable as it implies the person is able to travel to warmer countries on vacation.
In some parts of the world, for example, in Asia, tan skin is less desirable as it is associated with a lower economic status of someone working in the fields. That viewpoint has largely faded, and in today's modern world, tan skin is considered beautiful.
A person with a tan skin tone has a pale brown tone that ranges from Type 3 to Type 5 of the Fitzpatrick Scale. Depending on how light or dark their skin is, it can be light tan or dark tan, but still described as tan skin.
The term tan originally comes from the word tannum, which means oak bark. This bark was one of the materials used in the tanning of leather goods. It was only in 1950 when the word tan was used as a color classification.
Tan skin tone also belongs to the classification of medium skin colors with possible golden or olive undertones. It is lighter than dark skin tones but darker than lighter skin tones. You will know if you have a tan skin tone by simply examining the surface color of your skin.
If your skin is very fair and burns easily, you have a fair skin tone. You have a light skin tone if your skin is light-colored, and you have more beige or yellow undertones than those with fair complexions.
If your skin has some possible olive undertones, what you have is a medium or tan skin tone. But if your skin has a deeper and darker complexion, it can be classified as a dark skin tone.
The Best Colors for Tan Skin Tone
Many people with fair skin try to get tan skin either from sun tanning or at a tanning salon. So, if you have a natural tan, you are definitely blessed. Also, choosing colors to blend with your skin tone won't be a problem as you'll have hundreds of viable options.
Colors to Wear
The basic color concept that you can use for your tan skin tone is to create a contrast that will make it stand out. Bright and warm colors will accentuate your tan skin tone. So, choose green, orange, or red since these colors will allow your skin to glow.
Earthy colors or tones will also make your tan skin look brighter. You can include warm shades of yellow, some red hues, gray, tan, and browns on your wardrobe. Navy blue, black, and metallic colors, such as bronze, copper, and gold, will also flatter your tan skin tone.
What about a good hair color for tan skin tone? A great hair color for tan skin tone is chocolate brown. The warm shade of chocolate brown beautifully pairs with tan skin. Other brown or red shades are excellent hair colors for tan skin tone.
Other hair colors for tan skin tone I recommend include silver, honey, caramel, burgundy, black, and pink hair color. Each one of these colors is a good hair color for tan skin tone. They will make your warm, tanned skin stand out.
Colors to Avoid
Try to avoid cool colors, such as purple and blue. Since they are already dark colors, wearing them will make your tan skin look darker. You will also look washed out and pale with these colors. Stay close to brighter and warmer colors, including off-white and beige, to make your tan skin look lighter.
The Best Makeup for Tan Skin Tone
As with any makeup routine, you should start by applying a solid base. In that case, you should initially look for the best face makeup that will match your tan skin tone.
1. Primer
A makeup primer is the first thing that you need to apply. It is translucent, but you have to use it according to the final finish that you want to achieve. There's a primer for a dewy finish and matte finish. It will help you apply your makeup evenly and be able to wear it confidently throughout the day.
2. Foundation and Concealer
Now, you need to apply a foundation and concealer. The best ones for your tan skin tone are those that are available in different skin tones and undertones.
Apply the foundation together with a makeup blender. You'll only need a small amount of foundation on top of the makeup blender. Apply it with rolling motions to blend the foundation on your skin well.
3. Highlighter
The next thing to use is a highlighter. This makeup product will accentuate your tan skin tone even better. A gold highlighter is one of the best you can use. Just glide the highlighter on the following areas of your face:
Cheekbones
Eyebrow bone
High points on your face that you want to emphasize
Work on these areas to achieve a radiant glow. Just remember one rule that you need to follow when using a highlighter – less is more.
4. Face Powder
Your final touch-up should be face powder. Use one that has a translucent color so it won't take away the glow of your makeup. It will just function as a protective layer or cover. Use your makeup brush and dip it into the powder, and dust the contents on your face. There are many different shades of face powder, including shades for dark tan skin tone, medium tan skin tone, and light tan skin tone.
5. Eye Shadow
Next, you need to work on your eye makeup. The best ones for your tan skin tone are warm colors. A gold eye shadow blends well with your complexion. However, there are also a lot of eye shadow palettes that you can use. Just choose a palette that contains only warm shades.
Having an eye shadow palette is most beneficial when it comes to customizing the look of your eye makeup. Be sure to include the areas around your eyes when applying a primer to enhance the blending of your eye shadow.
6. Lipstick
You can now concentrate on your lipstick. The best lipsticks that can complement your tan skin tone are those with warm colors. These colors include pink, orange-red, and coral.
You also need to prep your lips before applying lipstick. Use a lip scrub to remove dead skin on your lips. Dab a small amount of lip scrub to your lips and massage it gently with wet fingers. Next, use lukewarm water to rinse off the dead cells and the lip scrub.
Apply a small amount of lip primer just enough to cover your entire lips before applying your lipstick.
Lighten Tanned Skin Tone
You can lighten a tan skin tone. You can regularly apply aloe vera juice on your skin to make it lighter and fairer. Massage enough aloe vera juice on any part of your body that you want to lighten, and you will get positive results.
Aside from aloe vera juice, you can also mix honey with lemon juice if you want to get rid of the tan that you have acquired from overexposure to sunlight. This remedy is an effective way to lighten tanned areas of your body.
Examples of Tan Skin Tone
To help you better understand what tan skin tone looks like, I have listed below some pictures of celebrities who have this skin tone.
1. Beyonce Knowles
Our first example is the famous pop singer Beyonce Knowles. Here she is flaunting her flawless tan skin tone.
2. Jennifer Lopez
Second on our list of famous celebs with tan skin tone is the multitalented artist, Jennifer Lopez. J. Lo possesses one of the smoothest tan complexions on the planet. Look at how she carries her flawless skin.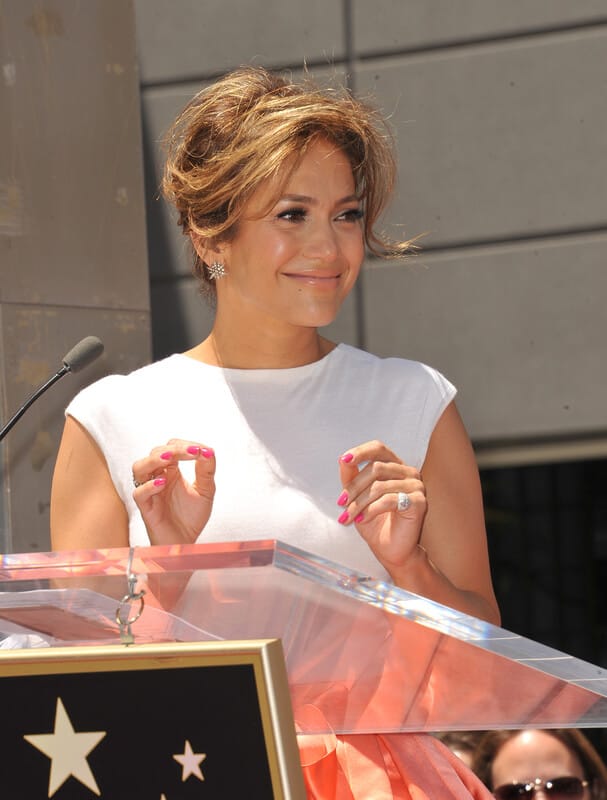 3. Salma Hayek
Third on our list is the Spanish actress Salma Hayek. She carries her tan skin tone very elegantly in this picture.
Best Skin Care for Tan Skin Tone
There are many advantages to having a tan skin tone. They include a lesser risk for sunburns, slower premature aging, and many more. But the American Academy of Dermatology advises that you need a specific skincare routine to maintain healthy skin. Here are some skincare tips that will help you keep a healthy glow.
1. Cleanse Your Face Gently
You will need a gentle and mild facial cleanser. You should choose a cleanser that is specifically designed for tan skin. One of the best cleansers is the no-rinse micellar water.
The oil molecules in micellar water will gently remove all makeup and other impurities on the surface of your skin without causing dryness.
One facial cleanser that you can try is the Vivite Daily Facial Cleanser. This mild facial cleanser will help get rid of impurities and loosen surface oil.
Click here to see it on Amazon.
Excess oil can be an issue for those with tan skin tone, and this cleanser is excellent at clearing the oil from the skin. It will also gently exfoliate your skin and make it fresh and moist.
2. Moisturize at Specific Times
If you have a tan skin tone, the AAD recommends that you moisturize it well. If you do not use moisturizers, your skin will look ashy. So, don't forget to apply a moisturizer right after taking a shower or bath.
Also, use a moisturizer that is specifically formulated for tan skin tones. A good moisturizer that you can use is the AAVRANI Softening Hydra-Whip Coconut Oil Moisturizing Cream.
Click here to see it on Amazon.
3. Do Not Over Exfoliate
Based on the studies of AAD, people with darker skin tones are more sensitive to exfoliants. So, try to be more careful when exfoliating your skin. The frequency of skin exfoliation also depends on your skin type. Some people can do it several times a week.
However, that doesn't mean you can also do the same. It is best to try it first a few times and see how your skin reacts before doing it more often. To play it safe, use a gentle exfoliant. In this regard, you can use the La Prairie Cellular Mineral Face Exfoliator.  
Click here to see it on Amazon.
This exfoliator contains mineral-rich gem powders, Rosa centifolia, and an exclusive cellular complex. It will mildly refine your skin by getting rid of the dead cells and debris that clogs your skin pores.
4. Watch Out for Dark Spots
The AAD also states that those who have darker skin tones should watch out for skin discoloration. Certain things trigger your system to produce extra melanin. When that happens, dark spots will develop on your skin.
Make sure to also avoid accidental cuts, insect bites, or pimples. These skin problems can help encourage your body to produce more melanin. If dark spots form in your body, you can use a dark spot corrector.
This product will lessen your skin's dark spots. Apply the product once in the morning and once at night after skin cleansing.
5. Wear a Broad-spectrum SPF Every Day
Don't believe in the common myth that says dark-skinned people don't need to wear sunscreen to block out the sun's harmful UV rays. The Skin Cancer Foundation says that if people with darker skin overexpose themselves to sunlight, they can still develop skin cancer and get sunburned.
That means wearing products with SPF is required whether you have light or dark skin tones. You have to wear SPF sunscreen every time you go out in the sun, even on a cloudy day. One application is not enough.
Also, remember to reapply sunscreen every two hours and even more often if you are sweating excessively or if you are sunbathing or going swimming. For this reason, it is always best to keep sunscreen inside your bag, just in case you need it.
Conclusion – What Is Tan Skin Tone?
Tan skin tone easily tans, and it won't develop as many signs of aging such as fine lines and wrinkles. Tan skin tone is a pale brown skin color that is similar to Mediterranean skin tone, often with olive or golden undertones.
My top skin care tips for anyone with a tan skin tone is as follows:
Cleanse Your Face Gently
Moisturize at Specific Times
Do Not Over Exfoliate
Watch Out for Dark Spots
Wear a Broad-spectrum SPF Every Day
Related reading:
What is Peach Skin Tone? (With Pictures)
What Is Warm Skin Tone? (With Pictures)
What is Mediterranean Skin Tone? (with Pictures)
What Is Fair Skin Tone? (With Pictures)