Disclosure: We may get commissions for purchases made through links in this post.
Golden skin tone sounds beautiful, and it really is if properly cared for. What is golden skin tone?
Golden skin tone is a spectrum of human skin color that has a yellow undertone. If there's a subtle golden or yellowish hue underneath the surface of your skin, you have a golden skin tone.
This particular skin tone is typically classified as one of the warm undertones. In appearance, this skin tone is more on the light or moderate brown, tannish, or brownish color. If sun exposure is limited, this skin tone will look pale.
Why is it necessary for you to know if you have a golden skin tone? For one, whenever you want to buy makeup, the store attendant will always ask you what your skin tone or skin undertone is.
Knowing your skin tone is also beneficial when it comes to choosing the right clothing colors and accessories to wear.
Read on to know more details about golden skin tone, the right makeup that will complement it, and the right color of clothes to wear. More importantly, I will show you the right way you can care for your golden skin tone so that it will always glow and shine just like its name says it should.
Also, for an excellent moisturizing concentrate, take a look at our top pick, the StriVectin SD Advanced Plus Intensive Moisturizing Concentrate:
Click here to see it on Amazon.
What Is Golden Skin Tone?
Golden skin tone is skin with a slightly yellow or gold undertone. Gold skin tones are classified as warm skin tones. Golden skin will tan easily. It won't burn easily.
Skin tone is basically the surface color of your skin. Experts have categorized skin tones into three types: fair, medium, and deep. Golden skin tone belongs to the medium type.
Skin undertone is another term used to describe the color of your skin. It is also classified into three types: cool, warm, and neutral. Typically, if you have a surface skin color that is peachy, yellowish, or golden, you are considered to have a warm skin undertone.
Golden skin tone belongs to the medium complexion. This skin tone is typically seen in people who have descended from Asian and Southern European races. It can also be referred to as olive skin. This skin tone has a balanced, neutral beige shade.
If you have this skin tone, you can tan well under the sun. But be careful because overexposure to the sun's rays can also result in the premature aging of your skin.
Celebrities with Golden Skin Tone
The best way to know what a golden skin tone looks like is by looking at some pictures of celebrities who have this type of skin color or complexion. Below, I list three pictures of celebrities who have this golden skin tone.
1. Gal Gadot
Our first example is none other than Gal Gadot, who played the lead role in the superhero movie Wonder Woman. Here's a picture where she proudly displays her golden skin tone.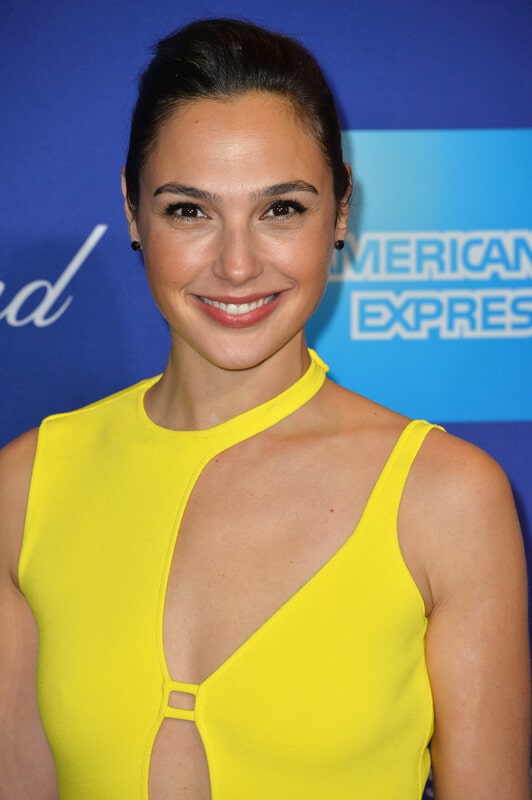 2. Penelope Cruz
Actress Penelope Cruz, our second celebrity example, also has a glowing golden skin tone. Look at her admirable and gorgeous golden skin tone in this photo.
3. Kerry Washington
Another famous female celebrity blessed with a healthy golden skin tone is actress Kerry Washington. Here's Kerry with her beautiful golden skin.
What Are the Differences Between Golden, Light, and Fair Skin Tones?
Golden skin tone is a bit darker than light or fair skin. Those with fair skin tones often descended from Northern European ancestors. These people often experience cloud coverage and frequent snowfalls. They also don't have as much melanin protection as those who have darker skin tones.
Native Northern Asians and Southern Europeans with golden skin tones have more melanin on their skin. Thus, their skin tones belong in the medium category.
Having more melanin on their skin enables them to tan beautifully. They will only get sunburned if they overexpose their skin to the sun's rays.
The Right Colors to Wear for Golden Skin Tone
Your warm skin tone will determine the best dress colors that you can wear. The most appropriate for your golden skin tone are the colors reflected in nature.
These colors include yellow-green, brown, ivory, coral, red, and gold. If you want to get a cool-toned look, choose clothes that have warmer hues of orchid, olive, or violet-red.
You can also wear hair colors that effectively complement your golden skin. These hair colors for golden skin tone include caramel balayage, golden brown, honey blonde, and light red strawberry.
Pro tip: If your skin tone is deeper, go for warmer hair colors.
The Right Jewelry for Golden Skin Tone
Some jewelry pieces are just right, while some simply do not go well with your golden skin tone. Your skin tone is an excellent backdrop for gold jewelry. The warmth exuded by the color of your skin will enhance the look of gold accessories.
You can wear different hues of gold, and they will all complement the warmth of your golden skin tone. Rose gold and yellow gold are excellent color choices for accessories. Oxidized silver will also match your skin tone beautifully. This jewelry color works best for both warm and cool skin tones.
The Right Makeup for Golden Skin Tone
Here are some makeup tricks that will bring the best out of your golden skin tone.
1. Less Foundation Is Better
You don't need to put a lot of foundation on your face to get a smooth finish. Just a small amount with light coverage on your skin will be enough. Apply the foundation in spots where you need to even out the skin surface.
Foundations with names such as golden or honey are the perfect match for your skin because they are yellow-based shades. Avoid using foundations with shades of pink and blue undertones.
2. Hide the Imperfections
Dark circles under the eyes are commonly associated with darker skin tones. So, even if your skin is smooth and flawless, you may need to hide these imperfections by using a concealer.
Yellow-based concealers will go well with your skin. Also, choose a shade that is lighter than your complexion.
3. Blush with Warm Colors
Choose a blush with warm colors, such as coral, peach, and apricot. Using blushes that are darker than these colors will not give justice to your golden skin tone. In summer, you can use blushes with orange hues to make your skin look vibrant.
4. Put on Eyeshadows with Lively Colors
Golden brown eyeshadows will look good on your skin. If you want your look to be more captivating, use eyeshadow with metallic gold color to shift the focus on your golden skin.
Your skin color also gives you the advantage of using exciting eyeshadow colors, such as sapphire blue, emerald green, and burnt orange. These colors won't look harsh on your skin tone.
5. Don't Forget the Highlighter
Your skin tone will look even more amazing with the right use of highlighters. Colors like pink gold or peach nicely applied on your brow bone down to the bridge of your nose will accentuate the brightness of your skin tone.
Another good alternative for your golden skin tone is a golden highlighter with hints of pink.
6. Different Lipstick Colors Are OK
Your golden skin allows you to use various lipstick colors since nearly all kinds of colors can complement it. Pink orange and coral are two of the best choices for lipstick colors. However, you can also try cinnamon, toffee, and nude shades.
If you really want to bring out the golden tone of your skin, you can use orange and fiery red lipsticks. The same is true with a variety of wine colors, including deep berry.
But try to avoid lipsticks with purple shades because they will accentuate your yellow undertones too much. If that happens, you will look too yellowish.
7. Choose the Correct Color of Nail Polish
As with lipsticks, you won't have a hard time choosing the right colors for your nails. Almost all nail polish shades can complement your golden skin tone. But the best ones are warm colors, such as sand and orangey browns.
You can also wear nail polish colors like gray, dark red, bright turquoise, and apricots. However, if you can, avoid navy blue and pale shades because these colors will make you look unhealthy. Gold shades are also a no-no because they will look dull with your skin tone.
The Right Skin Care for Golden Skin Tone
If you have a golden skin tone, your skin carries some elements or characteristics of fair skin and dark skin. Your skin has less melanin than those with darker skin, so you will not be susceptible to sun damage.
The collagen level of your skin is also in the middle of fair and dark skin, requiring you to get protection from skin problems, such as age spots, wrinkles, and sagging.
Here are some tips on the right skincare for your golden skin tone.
1. Cleanse
Even if your skin is not oversensitive to chemicals, you should still use a gentle cleanser. Cleanse your face each night before going to bed at night. It's also important not to sleep with your makeup on.
Your face has dealt with different kinds of pollutants during the day, not to mention the oil buildup on the surface of your skin, so don't go to bed without cleansing your face.
2. Exfoliate
In exfoliating your skin, the best way is to gently slough off dead skin cells. That means you should exfoliate your skin very mildly. Also, don't over-exfoliate since it will do more damage to your skin.
3. Moisturize
After cleansing your face, you should apply a moisturizer to hydrate your skin.
One of the best moisturizers you can use is the StriVectin SD Advanced Plus Intensive Moisturizing Concentrate. This product will provide your skin 72 hours of hydration.
Click here to see it on Amazon.
It can visibly reduce wrinkles on your face because it is formulated to target 10 types of skin collagen. Moreover, clinical tests showed that it could boost the elasticity of your skin.
4. Tone
Aside from moisturizing your skin, you should also apply a face toner. Face toners provide many benefits to your skin. They can restore your skin's pH balance, tighten skin pores, and act just like a moisturizer.
Toners can also provide an additional layer of protection to your skin against harmful elements, which can affect your skin's overall beauty and health.
One of the best face toners that you can buy in the market is the Blue Copper 5 Prime Sleep Tight Mask.
Click here to see it on Amazon.
This facial toner will visibly tighten, lift, and restore the lost volume of your skin while you sleep. It will also intensely hydrate the fine lines and wrinkles on your face.
5. Revitalize
Your skin can lose its vitality and suppleness because of stress, pressure, and damage caused by harsh elements in our environment. You need to revitalize your golden skin tone with the essential vitamins and nutrients that it needs.
If you think that your skin needs revitalization, one product that you can use is the NuFace Booster Copper Complex Infusion Serum. This serum contains substances designed to rejuvenate your skin.
Click here to see it on Amazon.
Its contents include copper, essential elements, botanicals, and antioxidants that will improve the overall appearance, firmness, and texture of your skin.
6. Use Sunscreen
Putting on sunscreen protection is very important in maintaining healthy and vibrant skin. Even if you are not as susceptible to sunburn as fair-skinned people, you still need to wear sunscreen protection, especially during the summer months. Use a broad-spectrum sunscreen rated no lower than SPF 15. Higher SPF ratings are even better.
Conclusion – What Is Golden Skin Tone?
So, to revisit our initial question: What is golden skin tone? Golden skin tone is a spectrum of human skin color. If the color underneath your skin has golden or yellowish hues, you have a golden skin tone.
Your skin tone also has warm undertones but will look pale with minimal sun exposure. People with golden skin tones tend to have light to moderate brown or tan complexions.
Related reading:
Golden Brown Skin Tone – What Is It? [With Pictures]
Shades of Brown Skin [20 Common Brown Shades with Chart]
What Is Bronze Skin Tone? (With Pictures)