Disclosure: We may get commissions for purchases made through links in this post.
Are you wondering what specific skin color best describes Italian skin tone? Some describe it as olive skin tone or Mediterranean skin tone. But what exactly is Italian skin tone, and what does it look like?
Italian skin tone (also referred to as olive skin tone or Mediterranean skin tone) is related to the pigmentation in Type III, IV, and V of the Fitzpatrick Pigmentary scale (see below image).
It is a color hue that is usually regarded as tannish skin, brownish, or light to moderate brown. Such skin complexion is also commonly described as having golden, greenish, or yellowish undertones.
Read on to learn more about what exactly Italian skin tone is, as well as how it compares to Mediterranean skin tone and olive skin tone.
Also, for an excellent anti-aging moisturizer, take a look at our top pick, the VENeffect Anti-Aging Moisturizer SPF 15 Cream:
Click here to see it on Amazon.
Italian Skin Tone: What Is It (with Pictures)? Is It Olive?
Italian skin tone ranges from pale skin to light brown skin to moderately dark brown skin. This skin tone may also have undertones that are olive, golden, yellowish, beige, or cream.
The thing that makes Italian skin tone unique is the neutral green pigment that is faintly noticeable on the skin's surface. Some people who have this skin undertone may have a grey or ashen skin appearance.
This underlines the need for you to be aware of the different undertones of Italian or olive skin to understand what it really is.
Here are some pictures that will help you understand what Italian skin tone looks like:
This picture shows you the difference between a white skin tone and an Italian skin tone. Paris Hilton has a white skin tone, while Kim Kardashian displays olive or Italian skin tone.
Here are a couple of images that will show you what an Italian skin tone is: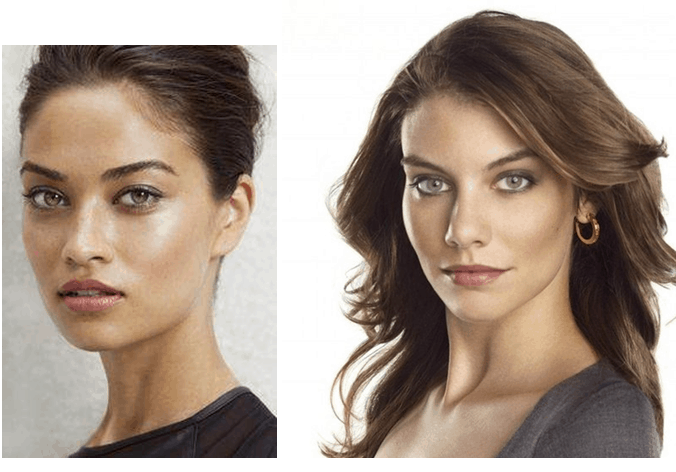 Perhaps the reason why olive skin tone is also sometimes called Italian skin tone is that people who live in the Mediterranean, where Italy is a part of, often have olive skin.
Most likely, the reason why people in these parts have this skin tone is the Arab migration in Italy that happened in the past. Most Western Asians have olive skin, and they must have transferred this trait to the following generations when they migrated to Western Europe, where Italy is located.
If you will look at the pictures above, you will see that olive skin tone or Italian skin tone is really just the darker pigment of white, caucasian skin tone. Another way to describe Italian skin tone is by saying it is a tanned or warm complexion.
There are many races in different countries that manifest such a warm skin tone, which is the result of a specific degree of melanin within the skin. It is a light brown complexion that can be seen between dark skin and pale skin.
Technically, the color of olive is a yellow pigment. You may see green olive fruits as basically dark green in color, but actually, they display a shadow of yellow.
Furthermore, a lot of Mediterranean olive fruits manifest brown and black colors. Just like olive fruits, olive or Italian skin tone is really just different color hues ranging from light to dark.
Here are some additional images that will show you the difference between different skin tones. Italian skin tone generally falls between the Light to Tan range.

Below are other images that show the different hues of Italian skin tone. With these images, you will be able to have a good idea of what this skin tone looks like.
What Are the Characteristics of Italian Skin Tone?
People with medium skin tones, such as the Italian skin tone, are not as sensitive as those with fair skin. They can tolerate anti-aging elements better. However, Italian skin tone has less melanin compared to darker skin tone. Thus, it is more prone to sun damage than darker skin tones.
Italian skin tones are able to tan more beautifully, but overdoing it can also lead to hyperpigmentation. Its collagen level lies between fair and dark skin. Therefore, you need some protection from skin-aging issues, such as sagging skin, age spots, and wrinkles.
One feature of having an Italian skin tone is that you will be able to maintain youthful skin for many years. The reason is that your skin tone has more oil glands than that of fair-skinned people. However, you may also have bigger skin pores that can lead to the development of acne.
People with Italian skin tone have more melanin in their skin than those with lighter skin tones–making them more prone to skin pigmentation. This problem can appear as early as 25 years from birth.
If you have this type of complexion, you need to be careful whenever you get scratches and/or blemishes.
The more you experience these kinds of skin troubles, the more your skin will produce melanin, which will result in more skin pigmentation.
In this regard, Dr. Veronique Delvigne, a scientific director at Lancôme, says that the skin color may also appear greyish if such pigmentation frequently occurs over time.
Basic Skin Care Tips for Those Who Have Italian Skin Tones
To maintain a glowing and youthful Italian skin tone, follow these skin care tips:
1. Cleansing
Cleanse your skin twice a day. In the morning, use a gentle cleanser to remove the residue of the cleanser that you used the night before. Also, use a foaming cleanser before going to bed at night. You should thoroughly cleanse your skin to remove all the makeup and sebum on your face.
Preferably, the cleanser should contain salicylic acid, which can remove dead skin as well. It will also keep your skin pores clearer. To prevent acne from developing, swipe a skin toner over your T-zone.
2. Morning Routine
Prevent pigmentation on your skin by using antioxidant products such as Vitamin C. Choose a product that contains a maximum of 15 percent vitamin C.
These products will penetrate your skin better and will prevent free radicals from damaging your skin. They will also remove the dark hues under your eyes.
Those with Italian skin tone tan easily, rather than burn, but they should still wear sunscreen. Consider, after applying a vitamin C serum, using a skin moisturizer with an SPF. A light and oil-free moisturizer with a wide range of SPF spectrum will help you prevent skin dryness in the morning.
3. Night Routine
Use a hydroquinone-free skin-lightening agent. It should preferably contain retinol so that it will be effective when it comes to inducing the development of new skin cells while you are sleeping. This will maintain a youthful glow in your Italian skin complexion.
Additional Skin Care Treatment Tips for Italian Skin Tone
Many of the skincare tips given in this article are also applicable to other skin complexions. For instance, if you have problems with unwanted facial hair, you need to remove them, whether you are fair or olive-skinned.
In this regard, use a mild depilatory cream that protects the skin while removing the facial hair. Preferably, it should be applied in several steps, which should include a soothing balm at the end of the process.
To address the oiliness of your skin, you need to use kaolin masks and clay-based cleansers.
To keep your skin hydrated, you need to use oil-free moisturizers. You also need to regularly exfoliate your skin since it will encourage the natural turnover of your cells.
Grainy scrubs or mechanical exfoliators that have coarse textures are good at this. However, you can also use chemical exfoliators, such as glycolic and lactic acid, which can dissolve dead skin cells. They are also effective in repairing your skin cells to make it more radiant and plumped up. Using these products will also help resurface your skin and reduce congestion, which in turn prevents breakouts.
Always use a broad-spectrum SPF whenever you go out in the sun. This will help you avoid developing fine lines, skin cancer, age spots, and wrinkles.
The Main Benefit of Having an Italian Skin Tone
One of the greatest benefits of having an Italian skin tone is the enhanced protection against external elements that usually damage the skin. While your skin may be a little oilier, you will be pleased to know that it has a slower rate of aging.
As you well know, white/fair skin complexions tend to be drier. On average, the skin of white-complexioned people tends to age faster, according to Dr. Diana Howard, the VP of Research and Development at Dermalogica, a US-based skincare product manufacturer.
She says that the first signs of aging usually show up in the mid to late 20s. They will first appear as uneven skin tone and then into visible fine lines. Apparently, if you have an Italian skin tone, the early signs of skin aging tend to start a little later than usual.
Having an Italian skin tone is definitely beneficial for men and women who are very much concerned about the way they look while they age.
Skin Care Products for Your Italian Skin Tone
To help maintain the glow and youthful look of your Italian skin tone, here are some skincare products that you can use:
1) VENeffect Anti-Aging Moisturizer SPF 15
A perfect moisturizer for Italian skin tone, or any other skin tone, is the VENeffect Anti-Aging Moisturizer SPF 15 Cream. This product can infuse your skin with moisture and luminosity. It will also provide you with protection whenever you are exposed to the sun's rays.
Click here to see it on Amazon.
It is a lightweight daily moisturizer that contains powerful plant-based anti-aging ingredients and broad-spectrum SPF 15 UVA/UVB sunscreen protection. It will reduce the onset of wrinkles because it will protect your skin from sun damage and will help reverse its negative effects.
This product boasts a proprietary phytoestrogen blend that consists of soy extracts, red clover, and grape seed. This proprietary blend will stimulate hyaluronic acid and collagen; thus, helping to reverse the signs of aging.
It also contains genistein, a powerful antioxidant and a substance that reduces inflammation. It is also a proven repairer of sun damage. VENeffect also contains skin lighteners such as vitamins B and C.
2) Erno Laszlo Transphuse Night Serum
Another skincare product that you can use to maintain the bright glow of your Italian skin tone is the Erno Laszlo Transphuse Night Serum.
This skincare product is an anti-aging daily serum that can help repair skin damage while you are sleeping. It is also safe to use because it is free from parabens, colorants, sulfates, and phthalates.
Click here to see it on Amazon.
Apply gently with your fingertips and then blend it upwards and outwards from the middle of your face, then to your neck and décolleté.
This night serum emits a lavender scent that will help calm your senses–letting you enjoy a peaceful sleep at night. It will help rejuvenate your skin overnight, reduce the damage caused by stress, and visibly tighten your skin for that youthful look.
3) Erno Laszlo Hydraphel Skin Supplement – Hydrating Toner
You will also need a skin toner to maintain the youthful look of your Italian skin tone. You can consider the Erno Laszlo Hydraphel Skin Supplement – Hydrating Toner for this purpose.
Click here to see it on Amazon.
This skincare product will help hydrate, calm, and refresh your skin. At the same time, it will erase skin dullness and reduce inflammation. This product will help in preparing your skin to absorb the moisturizer and serum that you will apply.
It is alcohol-free and will gently remove aging skin cells and flakes, along with infusing your skin with nutrients such as provitamin B5 to restore its youthful glow.
Conclusion – What Is Italian Skin Tone?
So what is Italian skin tone? Italian skin tone is also commonly referred to as olive skin or Mediterranean skin. It can also be described as having a tannish, brownish, or light-moderate brown hue. Italian skin tone also often has olive, green, golden, or yellow undertones.
It's great to have an Italian skin tone because of its natural glow and vibrant appearance. You still, of course, need to care for your skin to sustain a youthful and plumped-up look. Be thankful that you have this type of complexion because you will look young even after so many years.
Related reading:
What Is Copper Skin Tone? (With Pictures)
Olive-Toned Skin: What Goes Well with Olive Skin Tone?
What Is Ebony Skin Tone? (With Pictures)
What Is Almond Skin Tone? (With Pictures)