Disclosure: We may get commissions for purchases made through links in this post.
People with dusky skin tones have an advantage over people with fair skin. Blemishes are easier to remain unnoticed with dusky skin tone.
Fair-skinned women have a lot to conceal since their skin can be easily damaged by certain elements. Hiding skin blemishes is one of their main concerns but is not much of a problem to those who have dusky skin tones.
What is a dusky skin tone? Dusky skin tone is a skin complexion that tends to be ashen or light brown. This particular skin tone is common in India and is also described as swarthy.
The brownish coloration is primarily caused by the dark pigmentation of the skin. Dusky skin tone can become fair through the process of skin whitening.
Read on to learn more about dusky skin tone and how it can become fair.
Also, for excellent dark spot removal, take a look at our top pick, the Authentic Dalfour Beauty Gold Seal White Cream Filipina Logo:
Click here to see it on Amazon.
What Is Dusky Skin Tone: Can It Become Fair?
You have a dusky skin tone if your skin complexion is brown or naturally dark. Some people believe that dusky skin is the epitome of real beauty and that it is also sensuous and sexy.
As in other skin tones, there are also various hues of dusky skin. Some are closer to fair skin tones, while others tend to be brown. Other dusky skin tones are even darker and closer to being black.
If you really want to have fairer skin, is there a way to do it? Is it possible to make your dusty skin fair? Yes, it is entirely possible. In Asia, there is a way by which women with darker skin have transformed or changed the color of their skin. They did it through a process called skin whitening.
The main component of this skin whitening process is glutathione. This substance is originally used to fight diseases, such as cancer, Parkinson's disease, liver problems, and many other illnesses.
It has been established that there is one "unintended" benefit for those who have used this substance.
One of the side effects of taking glutathione is skin lightening. Moreover, it seems that there are no other adverse side effects. The word spread abroad, and glutathione became the answer to those who would like to whiten their skin.
Many people in Asia and other countries, which are predominantly inhabited by dark-skinned races, are now using glutathione. They ingest and/or inject glutathione to make their skin lighter. So, if you have dark skin, it is possible to make your skin whiter or fairer by using glutathione.
The process also appears to be safe since there are no statistics that show its dangerous side effects. In fact, those who have been using glutathione testify that they even became healthier after using it.
Famous Celebrities with Dusky Skin Tones
The best way for you to know what dusky skin tone looks like is to see some photos of famous celebrities who have this skin color.
1. Priyanka Chopra
Our first example is the famous Indian singer and actress Priyanka Chopra. Here is a picture of her with her beautiful, dusky skin.
2. Zoe Saldana
Our second example of a celebrity with a dusky skin tone is the actress Zoe Saldana. Would you agree that she has one of the most beautiful complexions in Hollywood?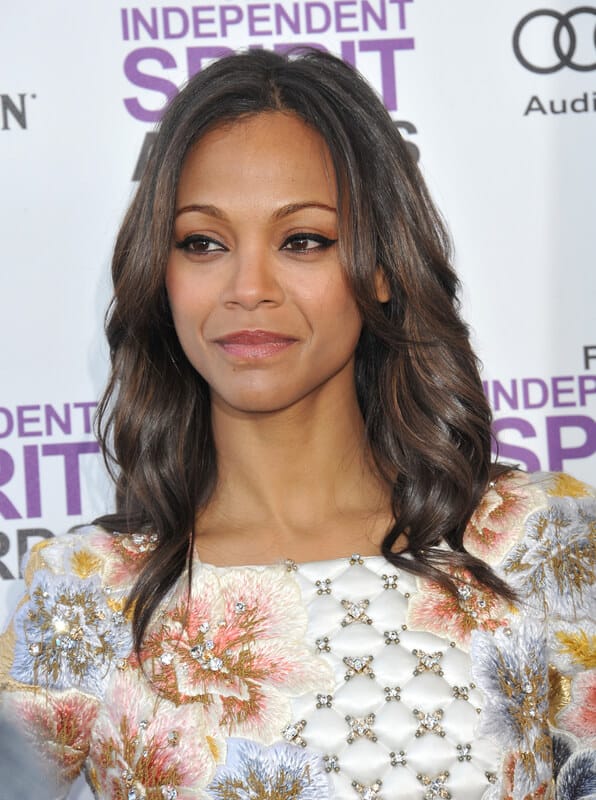 3. Mariah Carey
Mariah Carey is another celebrity who's not shy about her dusky skin tone. In fact, she flaunts it for all the world to see. As you can see, Mariah's dusky skin tone is lighter than the others.
Benefits of Dusky Skin Tone
Some Asians and Africans would rather have fairer skin, thinking that it is more attractive and beautiful. This world has created a premium on fair skin. For this reason, some people with dusky skin want to whiten their complexion.
However, what they don't realize is that there are many disadvantages to having fair skin. For one, white skin gets easily sunburned and is susceptible to skin cancer.
Just like the idiom, "the grass is greener on the other side of the fence," try to consider the following benefits of having a dusky skin tone:
1. Hiding Skin Blemishes Will Not Be Much of a Problem
If you have dusky skin, skin blemishes will not be very noticeable. You won't be spending too much time and money like women with fair skin just to hide dark spots, skin discoloration, and other skin problems that break out from time to time.
2. Dusky Skin Exudes Sensuousness
Many men (and women too) believe that dusky skin means hot and sexy. Some of the most famous fashion icons in the world have dusky skin. Look at how Naomi Campbell flaunted her darker dusky skin on the runway.
3. Less Prone to Sunburn
In general, dusky skin won't easily get sunburned, even if you spend hours in the sun during the summer months. However, overexposure to the sun can also deplete the melanin content of your skin, so just be careful.
4. Slower Rate of Skin Aging
Sun damage is one of the reasons why there is premature aging of the skin. Those who have fair skin cannot escape this problem.
However, your dusky skin is somehow immune to this skin problem because of the luxurious amount of melanin in your system. Melanin just can't be easily extinguished because of their sheer volume in dusky skin.
5. There Is No Need for You to Tan
Women with fair skin feel the need to tan their skin to be able to show that there's life in their veins. Tanning takes time and also costs money. You don't need to waste a lot of time tanning since the color of your skin makes you look alive, active, and glowing.
6. You Don't Have to Worry About Getting Skin Cancer
Fair-skinned people are more susceptible to skin cancer than those with dusky and darker skin tones. Studies have shown that there are many layers of melanin in your skin that protect you from the sun's harmful UV rays. [1]
Lesser layers of melanin are present in people who have fair skin, which is why they are more prone to developing skin cancer.
Skin Care Tips for Dusky Skin Tone
Yes, there are many advantages to having dusky skin tone. You need not worry about sunburn, dark spots, skin cancer, and all that bad stuff.
However, that doesn't mean there is no need for you to take care of your skin. Skin color is not equal to skin type. Whatever is your skin type, whether oily or dry, you still need to follow an established skincare regimen to keep your dusky skin glowing.
1. Check Your Skin Undertone
Most individuals with dusky skin have a yellow undertone. However, it could be wrong for you to just assume that you have the same undertone. Yellow is a warm undertone.
However, if you have a cool undertone and apply a heavy foundation, you will look sunburnt and orangey. So, it is important to know your undertone.
2. Don't Use Too Much Powder
You might be tempted to use a lot of powder to make your skin whiter. If your skin is normally dry, don't over powder because your skin will look dull and ashy. Just use a small amount of powder when it is too humid or if your skin is oily.
3. Don't Forget the Sunscreen
Dusty skin also needs sun protection even if you don't easily get sunburned. You can easily get tanned if you don't use sun protection because you have more melanin in your skin.
You can use the Obagi Sun Shield Tint Broad Spectrum SPF 50 Sunscreen. This product is hypoallergenic and fragrance-free. It will protect your skin from UVA and UVB sun rays.
4. Treat Acne Scars Immediately
Acne scars will also affect the beauty of your dusky skin. As soon as the acne clears up, immediately treat the spot with topical treatments approved by your dermatologist.
If you wait a little later, the acne scar will get harder, and it will be more difficult for you to get rid of it. Remember, your skin has more melanin, and that will make your acne scar even darker.
If you already have some dark spots on your skin, remove them by using the Authentic Dalfour Beauty Gold Seal White Cream Filipina Logo.
Click here to see it on Amazon.
This product will make the dark spots lighter. It will also reduce the appearance of your acne scars as well as other skin imperfections such as wrinkles, melasma, freckles, and dark spots.
5. Exfoliate Your Skin Regularly
Buff or exfoliate your skin regularly because an exfoliated skin will absorb the substances of your skincare products better. The makeup that you will put on will easily glide over your skin to make it look like it is airbrushed. Exfoliate your skin at least once or even twice a week.
You can use the Sanitas Skincare Retinol Peeling Cream, Professional Strength Peeling Cream for this purpose.
Click here to see it on Amazon.
This product is a professional peeling cream that will enhance the renewal of your dusky skin. It will make your skin look vibrant and healthy.
6. Don't Forget to Moisturize Your Skin
Always moisturize your skin and do it often. You can make your skin smoother and softer if you moisturize regularly. If you don't, your skin will dry up and may develop ashy patches. Don't ever think that covering your face with makeup will be enough.
7. Use the Correct Foundation
Your makeup will look flawless and very natural if you will use the right foundation for your dusky skin. You will know if it's the right foundation if you will dab a small amount on your jawline and then go out in the sunlight. See if it looks alright on your skin.
If you have difficulty finding the right foundation, you can mix a lighter foundation with a darker one. You can make your own custom foundation that is more compatible with your dusky skin tone.
However, be sure that these two foundations have the same densities or consistencies and are made by the same manufacturer. If not, their formulations will clash and will affect the quality of your makeup.
8. Use the Right Blush
Selecting the correct blush for your dusky skin can be a bit tricky. However, there are several blushes that you can use to complement the color of your skin.
Pink is usually selected for darker skin, but you can also try plums, corals, wines, and warm oranges. You can also use gold-colored blushes. Avoid blushes with a silver shimmer because your skin will look dry and metallic.
9. Use the Right Lipstick
Light glosses will perfectly match your dusky skin tone. Lipsticks with intense colors will also complement your skin color. However, try to stay away from pearly and frosty finishes because they will make your lips look dry and thin. These colors will also clash with the color of your skin.
10. Highlight Your Prominent Features
Your face certainly has its prominent features. Accentuate the features that make your dusky skin beautiful.
To do this, use a highlighter or an illuminator and dab some amount of it on the spots that you like to accentuate. The consistency of the highlighter should be compatible with the particular hue of your dusky skin.
Final Makeup Tips for Dusky Skin Tone
Makeup should enhance your natural complexion. Choose makeup products that are compatible with your dusky skin. Here are some makeup tips that you should consider:
1. The Best Foundations Are Cream-based and Liquid Types
Avoid using a foundation that is darker than your skin. Conversely, it is also wrong to think that a lighter foundation will be the best to use. The best way is to pick a foundation that closely matches the color of your skin.
2. Reduce the Shine on Your Face
After you have finished applying your makeup, dust your foundation lightly and evenly with a translucent powder. Doing so will maintain the beautiful look of your makeup. Your face will also stay matte and prevent it from getting oily.
Conclusion – What Is Dusky Skin Tone: Can It Become Fair?
The color of dusky skin leans towards brown or black. This brownish or blackish color is due to the dark pigmentation of the skin.
It is wrong to think that fair skin is more beautiful than dusky skin. They both have their own beautiful qualities, but there are certain advantages to having a dusky skin tone.
To many, it looks hot and sexy, so be grateful that you happen to have dusky skin.
Related reading:
What Is Copper Skin Tone? (With Pictures)
What Is Italian Skin Tone? (With Pictures)
Olive-Toned Skin: What Goes Well with Olive Skin Tone?
What Is Ebony Skin Tone? (With Pictures)